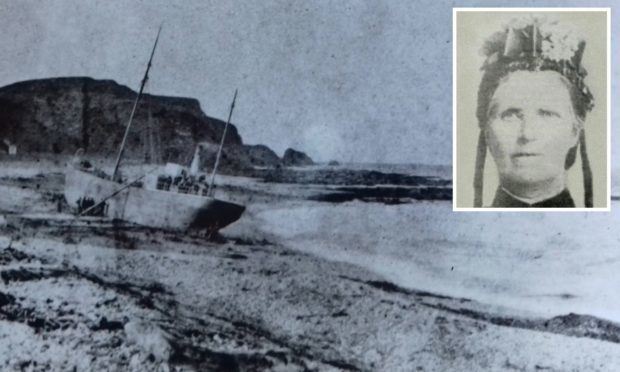 A community group is hoping to tell the amazing story of a 40-year-old mother-of-nine who saved the crew of a stricken Dundee steamer in a daring North Sea rescue.
The William Hope suffered engine failure and began drifting towards jagged rocks off Aberdour Bay, Morayshire, in October 1844.
It seemed the sailors' fates were sealed when the anchor cable snapped, leaving them at the mercy of the terrible conditions.
Jane Whyte spotted their plight from the shore.
She waded into the freezing North Sea with her dog and caught a rope which was flung by the desperate sailors, which she duly wrapped round her body.
She then struggled to return to shore and literally made a lifeline for the sailors to reach dry land.
Fifteen men from the Dundee steamer safely made shore due to Jane's actions.
Jane was awarded the silver medal and £10 from the RNLI.
She used her £10 reward to buy the farm that they lived on and gave all of her children an education.
There is currently a plaque at the site of her old cottage at Waulkmill to mark her bravery.
However, the community council hopes to create story interpretation boards at the beach to tell her story.
There will be an event held later in the summer on the exact date of Jane's death, which will showcase the boards.
The group is also working with Aberdeenshire Council to put the project together.
Chairman of New Aberdour, Tyrie and Pennan Community Council Bill Pitt said: "Presently there is a memorial and plaque that were dedicated to Jane Whyte for saving the lives of the men aboard the vessel William Hope.
"The community council feel there is scope to place a storyboard that will further describe the events with text and historic images of Jane Whyte and the vessel William Hope.
"The 100th anniversary of Jane Whyte's passing will be this August.
"She was indeed a very brave and strong person.
"Her actions on October 28, 1884, were nothing short of heroic.
"We would welcome anyone, especially the family/descendants of Jane Whyte that would like to be a part of this project to please contact the community council.
"We are asking the community if they want to be involved with it as far as providing other images or have any information about Jane Whyte."
A meeting of the Local Marine Board was held in Aberdeen in recognition of her conduct when Mrs Whyte received a reward for gallantry from the Board of Trade.
Lord Provost at the time, Mr Matthews, said: "This was an act which would have been honourable to any man, but being the act of a woman it deserves the highest honour and the highest reward than can be given for gallantry in saving life."
The iron steamship was built in 1883 and was wrecked as a result of the accident.