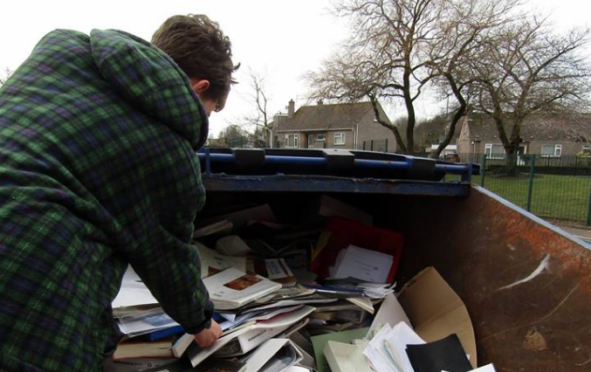 City councillors are facing a probe into the authority's conduct after historical pupil and medical records were reportedly discovered abandoned at a former Dundee school.
Volunteers found around 70kg of discarded papers at the Burn Street site of the old Baldragon Academy, including information on former schoolchildren.
Among stacks of old worksheets, the group said they came across details of pupils dating back more than 15 years and even discovered medical information left behind near one of the former school blocks.
The Information Commissioner's Office (ICO) confirmed it was aware of a potential data breach in relation to Dundee City Council and was "looking into the details".
Kirkton Community and Safety Partnership vice chair Lynn Watson, who has claimed she was "prevented" from removing flammable materials just weeks before a blaze at the site, said it was "obvious" proper procedures had not been followed.
"I found some old paperwork in the skip with details on it which should have been shredded, so I removed it," she said.
"Then I found recent paperwork with confidential details, so I contacted the council to say that it should have been destroyed and not dumped.
"That's when they locked down the skip and refused access to the rest of the school."
The spot has become popular with local youths and vandals, and police have launched an investigation after youngsters were spotted inside the buildings and on the roofs in the weeks leading up to the blaze.
Ms Watson said she had contacted local councillors a number of times to raise concerns over the way papers and other recyclable materials had been managed but received no response.
She also contacted the education department and the school's headteacher directly to return the confidential records but confirmed some other materials were now "half way to becoming compost in my bin".
North East MSP Bill Bowman said the find was an "outrageous and avoidable breach of pupil confidentiality".
"It looks like the service turned the lights off at Baldragon and went home," he said.
"The public has become more aware of data protection and basic rights to have medical and personal data.
"The education convener must act now to discover why this potentially sensitive information was left for anyone to uncover."
A Dundee City Council spokesman said: "We are aware of this matter and are investigating.
"The council has also reported this to the Information Commissioner's Office."