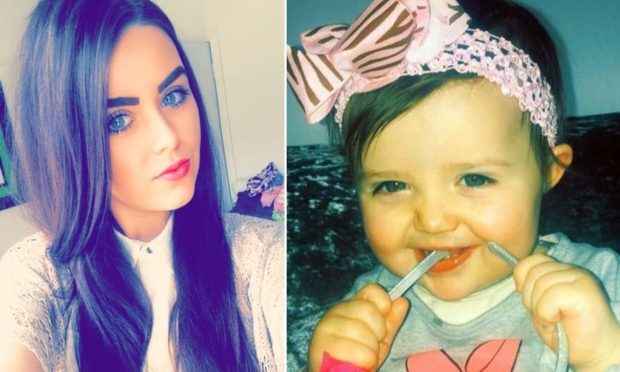 A Dundee mum who launched an awareness campaign after her 18-month-old daughter suffocated under a teddy bear said she has been taken aback by the scale of the public response to the tragedy.
Dexy Leigh Walsh discovered her daughter Connie Rose had suffocated when she went to wake her on March 6.
Dexy had put stuffed toys, including a large teddy, down the side of the bed to stop Connie Rose from hitting her head against the wall. Tragically, the toddler was smothered during the night.
Brave Dexy has now shared her story in the hope that other parents will take steps to ensure such tragedies can never happen again. A Facebook page set up to raise awareness about the dangers of leaving stuffed toys on the beds of young children has been seen by thousands of people.
She said: "I want every parent to see and be aware of this. Let them fall – don't try to stuff small places up with soft things, just leave it empty.
"She had a bed guard at one side and the smallest gap from her wall to her bed and that's where I had put all her teddies – my biggest regret in life.
"Please move everything off your kid's bed and away from the sides.
"I really hope my little princesses tragic story can save someone else baby's life."
Dozens of people commented on The Courier's story about Dexy's campaign on Thursday saying they would be removing stuffed toys from cots.
Merry Scott wrote: "So sad. Moving my toddler's teddies out his bed as soon as I get home.
"This poor mummy blaming herself. It could have happened to so many of us."
Killed by her teddy bear: Heartbroken Dundee mum's cot warning after tragic death of toddler
Mary Needs added: "So very sad. Mummy please don't blame yourself as we have all done this. My deepest sympathy to all family fly with the angels, sweet baby."
Dexy said: "I'm shocked and happy with how many people are moving things from kids' beds and cots."
Posting on her Connie Rose Awareness page, she added: "Our awareness campaign is working – we have been mentioned in The Courier and have been asked to do a few more interviews.
"Thank you to everyone for taking the time to read our story and for all of your kind messages, it means a lot."