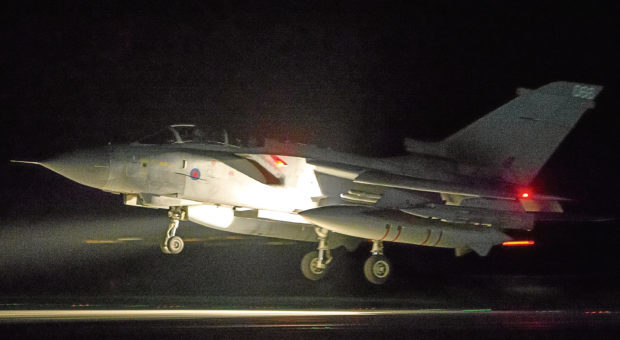 Sir, – I refer to your correspondents' opinions (Courier, April 17) in which they question the wisdom and moral justification for selective strikes against Syrian targets believed to be compliant in the murderous attacks on civilians.
I do not, myself, believe that the Syrian regime has the capacity to manufacture such lethal weaponry, the likelihood being that it was acquired from Iran, that has waged a battle for the past 50+ years to gain influence and control in the Middle East.
Iran's ally, the Kremlin, has a well known track record of denial and obfuscation in situations where they are caught red-handed in events contrary to international law and normatives.
And as Russia knows perfectly well, the UN is powerless to intervene because of the inevitable Russian veto in the Security Council.
We have seen this in the annexation of Crimea, the Russian invasion of Eastern Ukraine, the shooting down by ground-to-air missile of the Malaysian Airliner, the poisoning of Alexander Litvinenko and the more recent attempted poisonings of the Skripal family.
Surely, for any reasonable person, the balance of probability is Russian/Iranian culpability, and something must be done to stop the Kremlin from being involved in further outrages.
History teaches us appeasement of bullies by non-involvement in retaliation for aggression eventually leads to far greater problems in the future.
Derek Farmer.
Knightsward Farm,
Anstruther.
Police failings mounting up
Sir, – I refer to the article in Wednesday's Courier regarding a 61-year-old woman trying to hit her cousin with an axe.
It states in the article that officers from Police Scotland "failed" to search this woman properly and allowed her to leave the scene of this violent crime still armed with acid and knives.
How many more monumental failures are we going to see from this outfit before someone is held to account?
Failing to attend fatal accidents, failing to search properly or timeously for missing persons, people dying whilst being apprehended, failure to search a one-bedroom flat properly when a murder has occurred, sending police officers to the wrong location on numerous occasions…the list goes on and on.
The above are just some of the many serious gaffes on the part of Police Scotland.
Who is training these people and what are they showing them?
Come on Police Scotland, get your act together or stand up and be counted when it goes wrong through your mistakes.
Remember you are a public service and as such should be accountable to the public.
Robin Rodger.
24 Honeyberry Drive,
Rattray.
British 'values' not so desirable
Sir, – David L Thomson (Courier letters, April 18) wants to preserve "British values".
Which values are those?
The "British" Government in Westminster encourages xenophobia and racism.
It goes around the Middle East killing people and then complains about the terrorism it has fostered.
It sells bombs to countries with appalling human rights records.
It refuses to do anything about tax havens, so that the rich do not pay their taxes.
It punishes the poor and disabled for the mistakes of wealthy bankers.
It harbours weapons of mass destruction.
Now it wants to turn its back on our nearest neighbours in Europe.
Scotland deserves better than "British values".
Mr Thomson also criticises the Scottish Government for deteriorating standards, failing to mention that things are much worse south of border and that the only way to improve these standards in future is for Scotland to control its own finances.
Andrew Collins.
Ladyburn House,
Skinners Steps,
Cupar.
New regulations are necessary
Sir, – As a generous nation are people now becoming fed up of the business models and marketing methods employed by charities?
I know I am.
I have had professional fundraisers knocking on my door at 8pm trying to get me to sign up for a direct debit.
Meanwhile, I can't walk down the high street of my city without being bombarded by zealous chuggers.
I have also had numerous phone calls trying to get donations.
When going into charity shops there are now many new items for sale and when I applied for a charity shop as a volunteer I was told that I had to have two interviews, two references and wait for six weeks due to health and safety laws.
I feel that many charities are being run as a business and are losing many potential donors and volunteers as a result.
To add insult to injury they are getting substantial discounts for the rates of their premises claiming to be a charity yet acting as a business, potentially costing local authorities money that could be generated from actual businesses.
Closer regulation is needed.
Gordon Kennedy.
117 Simpson Square,
Perth.
SNP is on a slippery slope
Sir, – The SNP still has too much support for predictions about its demise to be other than premature.
Still, its much-vaunted iron discipline seems to be breaking down.
Current MPs of long standing, Pete Wishart and Angus MacNeil, are publicly at odds over the timing of any future referendum.
The clock is ticking and the rank and file are restless, as stunts on bridges recently and a planned rally in Glasgow in May demonstrate.
Former minister Kenny Macaskill emerges to cast doubt on Ms Sturgeon's judgment, something previously unheard of, and another former minister, Alex Neil, a Brexiteer, is a thorn in her side.
There have even been mutterings about the role played by Ms Sturgeon's husband, Peter Murrell, as chief executive of the SNP.
And, hovering in the wings, is the spectre of Alex Salmond, always likely to say something to make Ms Sturgeon's life more difficult.
What happened to the party where no disagreement was allowed, certainly not in public?
The SNP may not have had significant dealings with Cambridge Analytica, the company alleged to have used personal data from Facebook to try to influence elections in the UK and elsewhere, but what this incident shows is – apart from SNP hypocrisy – that party management is no longer as sure-footed as it was.
To have MPs unaware of the party's activities and accusing other parties of hypocrisy and worse over Cambridge Analytica has brought the SNP's management into disrepute.
The slope looks increasingly slippery.
Jill Stephenson.
Glenlockhart Valley,
Edinburgh.
An incredible sight in Perth
Sir, – I saw an amazing thing in Dunkeld Road, Perth, recently.
Two men were actually filling potholes.
At first I thought it must be a mirage.
I looked again and it was confirmed – the workmen really did exist and really were mending potholes.
It was a truly remarkable and highly unusual sight.
At least it's a start.
Well done "Perth and Chaos" Council.
D S Stewart.
8L Tulloch Road,
Perth.
Support our health service
Sir, – After the revelations about the financial issues at NHS Tayside, I think people in and around Dundee should come together and make sure our vital health service is not put at jeopardy.
There is nothing to be gained from people saying "they got themselves into this situation, so they can get themselves out of it".
There are a lot of people who work hard at Ninewells and other Tayside facilities and they don't deserve to be under yet more pressure.
We all need care at one time or another, so we cannot afford to be blasé about this.
What I would like to see is communities come together and raise some money for the health service.
I give a few pounds to a collection box whenever I'm there as a way of giving something back.
I would be interested in people coming forward with ideas on how to take this on.
Nan Meldrum.
Keith Place,
Dundee.