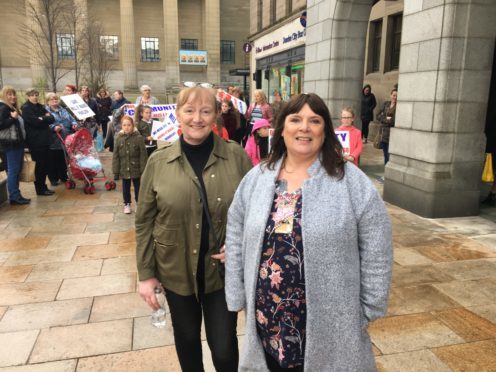 Dundee City Council has been urged to bring forward proposals for a replacement community centre in Mill o' Mains as soon as possible.
The  Mill o' Mains Community Pavilion was destroyed in a blaze last July after a wheelie bin was deliberately set on fire.
Councillors agreed on Monday to carry out a full options appraisal on the need for a new community centre in the area.
This will look at how much it will cost to build and run the centre and what sort of facilities it should contain.
They will also carry out a public consultation on the centre.
Although campaigners welcomed the decision to look into building a replacement, they remain angry it has taken nearly a year to convince councillors to consider rebuilding.
The local authority originally said it would be too expensive to rebuild, despite having insurance.
Labour councillors have said the local authority's scrutiny committee should now investigate.
Yvonne Mullen chairwoman of the Mill o' Mains Community Pavilion said: "I  would like the community group to be involved in the questions being asked for the consultation.
"I'm disappointed it had to come to Monday night before we got anywhere, what would have happened if we the volunteers had given up after the fire?
"We had to wait few weeks before we were given any support or answers from the council, what will happen if we give up and go away? How long will this drag out?
But she added: "It's better than nothing. At least we have hope."
North east Labour councillor Brian Gordon said: "I am hopeful now that Mill o' Mains may still get a replacement for the destroyed centre.
"It should never have taken nine months to get to this stage but it proves that people power can have an effect.
"I will be following this closely and pushing for progress. I will be looking for a report to come back to the committee as soon as possible."
Mr Gordon added: "The area needs this centre. Mill o' Mains has recently undergone major regeneration and the people of the area deserve to have a centre for the use of everyone here."