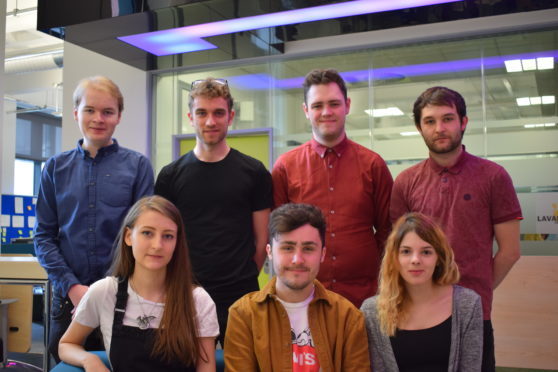 A team of Abertay University students are setting off to America to take on the best computer developers in the world.
Blacklight Games won the national heat of the Microsoft Cup in London to secure their place in the grand final in Seattle in July.
As part of a coursework exercise, the team created Firepoint – a first-person game aimed at bringing a new level of realism in firefighting training.
Using HoloLens and Windows Mixed Reality technology, the game allows trainees to see through the eyes of a firefighter as they make their way through a multi-storey training ground tackling a number of challenges.
The team hope the simulator will one day be used at fire station open days or recruitment fares.
The Microsoft Cup seeks game designs that can potentially change the world and $100,00, around £73,000, is up for grabs for the winning team.
This is the fourth year in a row that an Abertay team has made the UK finals and the second consecutive year at the world finals.
Matthew McAuley, from Blacklight, said: "We wanted to use technology to help provide training for different scenarios. The trainer can give feedback as they are moving through the world and it gives an idea of what they would be facing in real life.
"It's immersive and gets them ready for real training. Microsoft really saw the potential in it, particularly the potential to improve response times and how it could be used for training in different building situations.
"We are now going to narrow the game down and look at spatial mapping to see if we can make the game more real, based on real environments and make it a really polished product.
"We were shell-shocked to make the final – it's absolutely amazing.
"This project has been real fun and to go to the Imagine Cup and make it through to Seattle is incredible.
"The fact that we have a mix of disciplines within the team has been fantastic and I feel like it is getting us ready for a company environment: different people with different talent coming together to make something new."
Blacklight Games is made up of third year students Matthew McAuley, Marc Ubach Martinez, Emily Peterson, Calvin Angove, Alice Firth, Craig Metcalfe, Liam French and Hamish Blackwood.