Dundee West MP Chris Law has demanded Prime Minister Theresa May personally intervene to save the jobs of more than 450 HMRC staff in the city.
Workers at Sidlaw House had been told they would transfer en masse to the Department for Work and Pensions when their work on Tax Credits comes to an end in 2021.
But the 479 workers were given a devastating blow last month when it was announced the guarantee of a transfer had been dropped.
The Public and Commercial Services Union has said it may take industrial action in a bid to force the UK Government to rethink its plans.
At Prime Minister's Questions on Wednesday, SNP MP Chris Law demanded Theresa May personally intervene.
He said: "Since being first elected in 2015 I have consistently campaigned to protect hundreds of jobs at risk  in Dundee from being lost through HMRC's shoddy restructuring.
"I was finally given a written guarantee that these jobs would be transferred to he DWP. However, I have since learned without explanation that this is no longer to be the case.
'Betrayed': 500 Dundee HMRC staff told no en masse jobs transfer to DWP
"Will the PM personally intervene to reverse this reckless u-turn and betrayal by taking charge to save each and every one of the 479 highly skilled jobs, without which there will be a devastating impact on the staff, their families and my city?"
Mrs May replied she was unaware of the the issues affecting the Dundee workers.
She said: "I have not seen the details of the issue but will make sure my right honourable friends the Chancellor of the Exchequer and the Secretary of State for Work and Pensions look at the issues he has raised."
HMRC  said the DWP will no longer need the additional resources it had anticipated would be necessary for the management of the new Universal Credit benefit and the guaranteed transfer of jobs had been dropped as a result.
MPs demand ministers explain U-turn on Dundee HMRC jobs transfer
However, a spokesman said the HMRC would try to retain the knowledge and experience of its Dundee staff.
Speaking after Prime Minister's Questions, Mr Law said: "The UK government's backtracking over its pledge to protect the 479 highly-skilled staff at HMRC is nothing short of a blatant betrayal."
"I received written assurances from the UK government that staff would be transferred from HMRC to undertake Universal Credit work at the DWP. The Prime Minister must step in urgently.
"Unless the UK government lives up to its word, this will be yet another example of a Tory government that is intent on pursuing needless cuts, rather than protecting the jobs and livelihoods of dedicated and hard-working staff."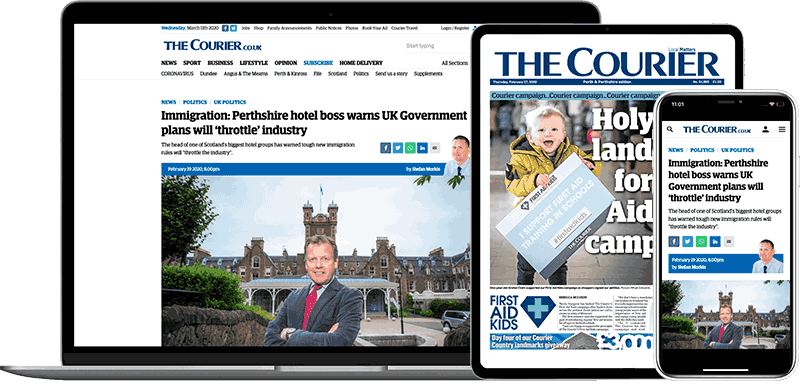 Help support quality local journalism … become a digital subscriber to The Courier
For as little as £5.99 a month you can access all of our content, including Premium articles.
Subscribe