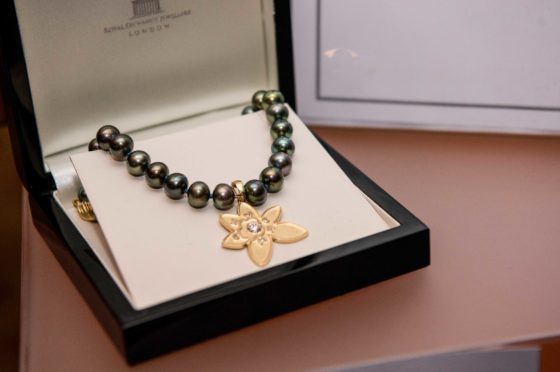 A necklace made from melted down jewellery donated by Courier readers has raised thousands of pounds for charity.
The item fetched £4,100 when it was auctioned for Marie Curie – the charity that provides free professional nursing care to the terminally ill – this week.
Jeweller Lorraine Law made the necklace from objects of jewellery donated by people across Scotland following an appeal in The Courier.
The original appeal in April asked for spare pieces – such as odd ear-ring butterflies or broken items – and Lorraine was flooded with offers.
In addition to the cost of the necklace, Marie Curie will receive around £8,000 from the sale of the remaining gold that was donated.
Marie Curie patron Petra McMillan from Broughty Ferry was one of the speakers at the fundraising auction event  and said she was delighted with the success of the jewellery appeal.
Petra, Lorraine and fellow Marie Curie patron Estelle Nicol came up with the idea of creating the necklace to mark the charity's 70th anniversary to celebrate the fact it was founded following the donation of a diamond engagement ring.
Petra said: "The whole event raised about £280,000 for Marie Curie, which is a record, but there is still money coming in.
"There are still a lot of items of jewellery that have to be appraised.
"Someone handed in a brooch from the Suffragette movement, which is very pertinent given the anniversary of women getting the vote, and there another with pearls from the Tay. Pearl fishing has been banned for a number of years so there are some really historic pieces.
"Plus there's another £8,000 from the bullion alone."
Providing an hour of care costs Marie Curie £20 so the sale of the necklace alone will provide 205 hours of care for terminally ill patients in Tayside.
Petra said she and the team were moved by the response to the necklace appeal.
"Lorraine had Courier readers coming in from as far away as Stirling and from Aberdeen and lots posted in.
"Everyone had stories about the jewellery or what Marie Curie nurses and done for them and their families.
"We can't thank The Courier and its readers enough."