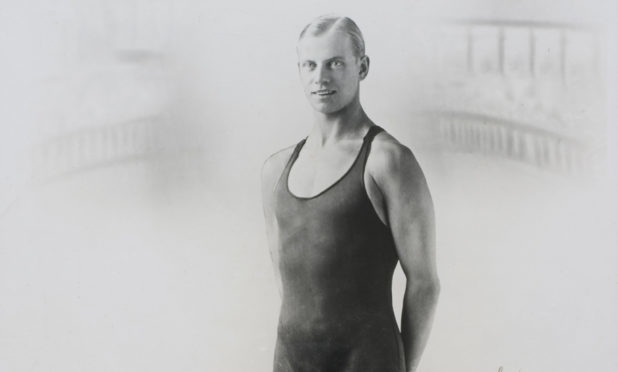 The V&A Dundee is to showcase the first-ever design of one of the world's most controversial garments — the Speedo swimsuit.
Australian company Speedo, which was founded by Scottish immigrant Alexander MacRae, caused moral outrage when it released the revealing item in the 1920s.
The first outfit, named the Racerback, centred on a full-body, tight-fitting design made from cotton or silk.
This was scandalous, compared to most swimsuits at the time which were made from wool and had sleeves to protect the wearer's modesty.
The company claimed the costume's hydrodynamic design allowed swimmers more freedom of movement and reduced drag.
However, the revolutionary design was banned from some beaches amid public outrage.
Despite the controversy, it quickly became popular among swimmers — especially Olympic athletes — and it remains a favourite in beaches and pools the world over.
Meredith More, V&A Dundee assistant curator, said the outfit "challenged moral codes" in the 1920s.
She said: "We are delighted to be able to include such an early Speedo swimsuit in our Scottish Design Galleries.
"Alexander MacRae was one of many Scottish entrepreneurs who moved abroad to make his fortune.
"Capitalising on Australia's growing beach culture, he created a ground-breaking swimsuit design that appealed to competitive swimmers and sunbathers alike.
"The Racerback's revealing back straps challenged moral codes in the 1920s, when mixed bathing was only just becoming acceptable, but nobody could deny his hydrodynamic design allowed swimmers to achieve faster times."
Swedish swimmer Arne Borg, who won five Olympic medals and broke 32 world records, was one of those who embraced the daring new design and he featured in several Speedo advertisements.
Speedo also designed swimsuits for women. In 1932 Claire Dennis was almost disqualified from the Olympics in Los Angeles, California, for wearing a Speedo deemed to show too much shoulder.
In 1936 Speedo, under the leadership of MacRae, caused yet more controversy when it dressed the Olympic men's Australian team in swimming shorts instead of the traditional one-piece during the Berlin Games.
It was not just athletes who were won over by the new design, which was also marketed to surfers and sunbathers. A Speedo catalogue described the Racerback design as giving "maximum body exposure" making it the ideal choice for those in search of a tan.
The costume, believed to be the only one in a UK collection, will feature in the new £80.1 million museum's Scottish Design Galleries when it opens in Dundee on September 15.
It will be loaned to the museum by the Leicestershire County Council Museums Service, which bought the outfit at a local vintage shop.