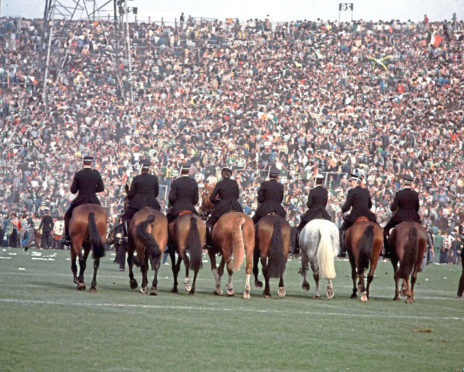 Sir, – Is it not wonderful to see people critical of the Scottish Government and the Parliament for at least trying to end the unhealthy relationship that some in Scotland have with alcohol?
Apparently, making cheap alcoholic drinks more expensive is an attack on the working class while not tackling the wine drinkers is helping the middle classes.
If you have enough money to kill yourselves through excessive wine drinking I somehow doubt the Scottish Government is likely to be able to stop you.
Having experienced the harmful effects of problem drinking in my own wider family I am not sure minimum unit pricing would have made any difference, but I am happy to applaud the Scottish Government and Parliament for attempting to make a start on tackling the bad relationship some have with alcohol.
If you cannot admit you have a problem and need help there is little hope for you.
In the 1980 a riot between the Old Firm at the Scottish Cup Final, not between the Dundee or Renfrewshire rivals, led the then Conservative government to bring in legislation with regard to alcohol at football grounds in Scotland.
Some people regard the ban at football grounds but not rugby grounds as another attack on the working class at the expense of the middle class. Has there been a riot at a major rugby match related to alcohol use like that which occurred at the Scottish Cup Final in 1980?
Peter Ovenstone.
Orchard Grove,
Peterhead.
PM's dilemma as war rages
Sir, – The factional fight within the Tory Party over Brexit is coming to a head.
The hard Brexit headbangers have threatened a leadership challenge against Theresa May and a withdrawal of support by the 10 Democratic Unionist Party MPs if she retreats from her disavowal of customs union membership. Now the Pro-EU faction of the Tories is suggesting the option of a second referendum should be opened up.
The prime minister's stated position is for a "comprehensive system of mutual recognition" whereby the UK and EU keep their regulations equivalent to one another to facilitate trade. This is vital in preventing the reintroduction of a "hard border" between Northern Ireland and the Republic of Ireland, an EU member state.
Having ruled out a customs union, May proposes two means for implementing mutual recognition – a "customs partnership" involving the UK collecting the EU's tariffs on goods coming from other countries on its behalf, or minimising checks using technology and a "trusted trader scheme".
Both options have already been rejected by the Eurocrats. Brussels is making clear that Britain will get a beggars' Brexit, on terms dictated by Germany and France.
The Tories simply can't tell the truth about Brexit. The EU countries are the UK's biggest trading partners. Relinquishing EU membership will greatly increase trading costs with these countries, with no compensatory economic outcomes in sight. Of course, these economic consequences may be offset by political advantages stemming from Brexit, but the Tories have not identified, concretely, any of the latter.
For now, May clings to power because all sides in her party mistrust her equally, since no one these days can get to lead the Tories if that person is perceived to be esteemed and trusted just a little bit more by another of the party's warring factions.
Alan Hinnrichs.
Gillespie Terrace,
Dundee.
Economic woes set to worsen
Sir, – The UK currently faces the deepest economic crisis since the war.
Britain's economic growth rate over the past 12 months is half its average over the previous 25 years. Investment is stagnating. Mortgage approvals in March slumped by almost 21%. Car output for the domestic market has dropped in the same month by 13%, for export by 12%
If there had not been a world boom over the last two years, it is clear that the UK would be hovering on the brink of a recession; indeed, as the world economy falters in the months ahead, there is now a real prospect of just that.
It's true that unemployment is hearteningly low, but unemployment is a lagging indicator – it reflects what economic conditions were 12 months ago. Since the financial crisis, real wages have fallen by 10% and over the last generation, the UK has become the global leader in creating low-paid, low-skill, casualised work.
Britain is the lynchpin of the world's greatest free trade area: the 27 member states of the EU, another 31 countries with whom free trade agreements are signed and operational, and another 30 with provisional deals about to be put in place. There is not a hope that Britain can reproduce this on its own.
Figures released by the OECD last week show inward investment into Britain slumped by $181bn over the last year; while outward investment has boomed by $120bn. This is one of the biggest one-year turnarounds by any country ever recorded.
The growth model on which we have relied – inward investment booming because Britain is the heart of the world's greatest free-trade area, married to emergent strengths in high technology dependent on access to that market – is being shattered.
The Treasury's pre-referendum warnings about Brexit are suddenly looking more relevant. By leaving the EU, the largest single market in the world, we are committing nothing short of economic suicide. My only hope is that people will wake up in time to realise this.
Alex Orr.
Leamington Terrace,
Edinburgh.
Sturgeon's Indyref2 gamble
Sir, – As the final attempt to reach a post-Brexit Scottish deal most likely fails in the House of Lords, events are progressing as Nicola Sturgeon had always hoped.
Since David Cameron announced the EU referendum, the prospect, then the reality of Brexit has been Ms Sturgeon's most cherished Indyref2 trigger.
She ignores that Brexit means 134 new powers come to Holyrood for the first time. Ms Sturgeon's focus is division so she concentrates on the additional 24 powers to be transferred gradually to preserve the integrity of the UK single market – a market of no interest to the SNP politically yet vital to Scottish jobs.
As the SNP orchestrated drama moves to the Supreme Court, it seems likely the questionable Holyrood Continuity Bill will be deemed illegal, denying Holyrood authority over the contested powers.
Yet undeterred Ms Sturgeon will persist in using Brexit as a justification for Indyref2. Theresa May will of course repeat her 'now is not the time' mantra and bingo! Cue much SNP establishment faux outrage. Then, with opinion polls persistently against her, Ms Sturgeon achieves her goal – a grievance which she hopes will grant her a majority in the 2021 Holyrood election and Indyref2 by 2023. By then she hopes to persuade a few hundred thousand more of us that separating Scotland from our largest trading partner is sound economic sense.
Martin Redfern.
Woodcroft Road,
Edinburgh.
Public services left to wither
Sir, – Over recent years we have witnessed a series of crises and major issues arising across Police Scotland, NHS Scotland and Scottish education.
The reorganisation of Scotland's police forces into one national organisation has so far created as many problems as it has solved, with recent news suggesting senior management sought to cover up criticism in a review of performance.
NHS Scotland has staff stretched to the limit trying to meet the most challenging of issues with resources that are not matched to the task, and statistics on cancelled operations, bed-blocking and missed A&E targets seem to prove the point.
In education, the area supposedly given top priority, the results in overcoming the attainment gap are failing to match the rhetoric.
Any political party would find it hard to overcome any of these issues, but in the case of the SNP there is a suspicion that its 11 years in power has made things worse. As its leadership focuses on trying to engineer a crisis out of Brexit, there can be little optimism that critical public services will be genuinely prioritised for some time to come.
Keith Howell.
White Moss,

West Linton.