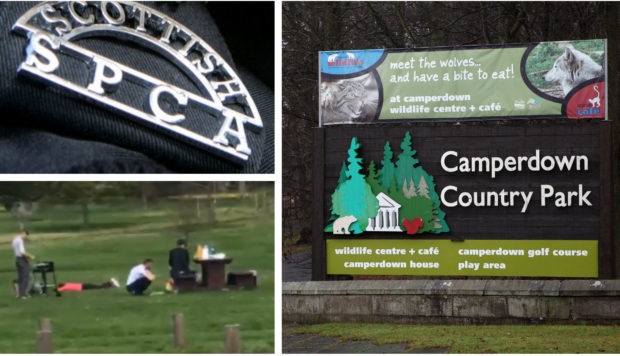 The SSPCA has issued an appeal for information after reports of a "terrified" dog being beaten at a Dundee park.
Yvonne Mannion said she saw the small terrier being shaken, slapped and slammed into a picnic table as a form of "discipline" after running off on Sunday afternoon.
The woman shouted at the male owner, who was part of a group of four men, but said she was too afraid to intervene further. Instead she took photos of the group and called animal charity SSPCA.
SSPCA Inspector Alastair Adams said: "We were alerted to an incident regarding a Yorkshire terrier at Camperdown Park on Sunday.
"We have been unable to trace the owner involved and ask anyone with information to contact our animal helpline on 03000 999 999."
Yvonne said the men spoke with foreign accents and were wearing dark-coloured trousers, with one wearing a red T-shirt.
Two of the men were dressed in white tops and the fourth had a dark-coloured jacket on.
Yvonne said: "The little dog ran across the road towards our dog and then back to the table.
"One of the men, who had a white T-shirt on, picked the dog up by its legs, shook it and slapped it across the face.
"He then forced the dog up on to its hind legs against the picnic table and slammed it into the table.
"The dog looked terrified and was yelping, it was a very distressing thing to see."
Yvonne said she went across to the group and said "that's not right".
She added: "I didn't know what else to do.
"I had to think about my own safety, otherwise I would have lifted the dog.
"If this was happening in public then who knows what's being done to the dog behind closed doors."
Police said they have not received any reports of the incident.