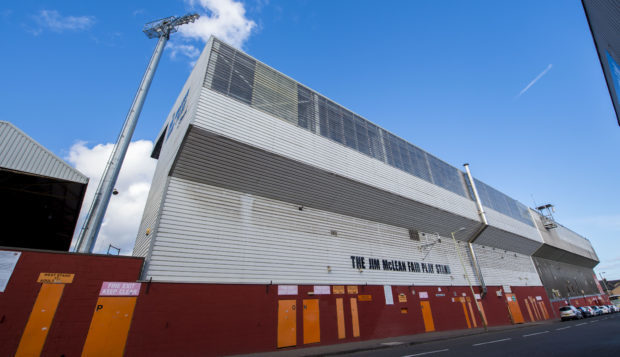 A man arrested following an alleged homophobic incident at a play-off game has been temporarily banned from all Scottish football matches.
Euan Low, 24, was picked up by police after allegedly acting in a threatening and abusive manner at Tannadice park on Friday evening.
Dundee United faced off against Dunfermline in the fixture, winning the game 2-1 on the night.
Low, of Baffies Brae, Dunfermline, appeared at Dundee Sheriff Court on Tuesday afternoon, having spent three days in custody after being arrested following the alleged incident.
Due to the bank holiday which took place on Monday, all court custody cases were pushed back until Tuesday.
Low denies two offences said to have taken place during the course of United's leg of the play-off game.
The first charge alleges he acted in threatening and abusive manner, liable to cause a reasonable person fear or alarm, in that he shouted, swore, acted in an aggressive manner, lashed out with his arms, struggled violently and uttered homophobic remarks.
The second alleges Low assaulted a member of staff at Tannadice by striking him on the head with his elbow. It is also alleged the assault was aggravated by prejudice relating to the man's sexual orientation.
Depute fiscal Joanne Smith had initially opposed bail, as Low had appeared on an analogous matter regarding a football-related offence at Kirkcaldy Sheriff Court on the morning of the match.
Sheriff George Way did not remand Low in custody ahead of trial, but did enact the special bail condition.
Low is now, in the interim between his release from custody and his trial – due to take place in July – banned from attending any and all regulated football matches scheduled to take place in Scotland.
This order includes professional football matches organised by the Scottish Professional Football League, the Scottish Football Association and any affiliated organisations, including junior football.
Sheriff Way said: "I think keeping him away from football grounds is needed and because of the nature of the alleged offences we will need early diets."
The court was told the 24-year-old works for the Princes Trust charity group.
Low will return to court for trial on July 5, with an intermediate diet scheduled for June 10.
Dundee United's 2-1 win at Tannadice against Dunfermline secured a play-off victory after an earlier 0-0 draw at East End Park.