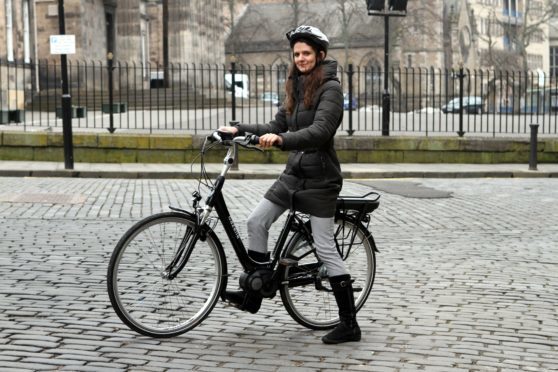 This week, The Courier has been putting e-bikes to the test. With sales booming in many parts of the world, they are being tipped as one of the answers to cutting congestion in our busy towns and cities. Nadia Vidinova is a reporter in our Dundee office. Here's how she got on trying out a model from Electric Bikes Scotland.
The last time I was on a bike was 2015, when I bought a cheap, second hand number with earnest intentions to get fit by cycling to work.
My fitness-goddess days lasted exactly three days. The hills of Dundee proved too onerous and cycling in work clothes was awkward, whereas packing them in a bag made them creased.
I did make a few leisure trips along the Tay a few times, but I wouldn't class myself as a committed cyclist.
When I heard about e-bikes, I was both curious and sceptical. I initially thought having one would be cheating, as I assumed the electric bit did all the work for you. Not so. You can adjust the settings so that you get a boost, but you still have to pedal.
When I received the e-bike for my trial I hadn't brought any cycling clothing with me. That wasn't a problem, as the bike was very comfortable, even with my stiff work clothes and bulky coat.
The luggage rack took care of the where-to-put-my-handbag dilemma and the chain guard protected my clothes.
Cycling home form work that day, I found the hill up Blackscroft to be a breeze. I simply cranked up the e-boost settings and the bike propelled itself forward with ease when I pedalled. I got a moderate work-out rather than the usual red-faced, huffing and puffing ordeal.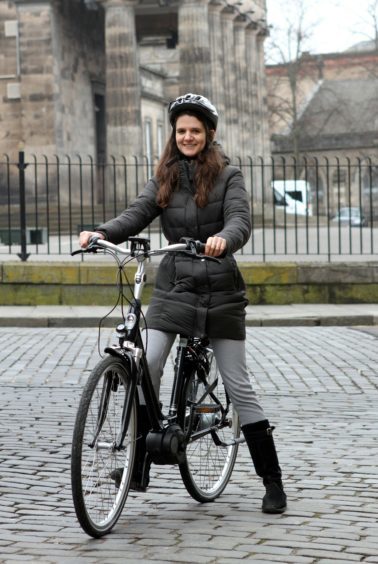 On even terrain I could switch off the e-assist and the bike functioned as a regular, non-electric model. It was steady on cobbled and potholed streets too, which was handy for navigating my neighbourhood.
The first sign of trouble came when I reached my front door. I live on a top-floor flat and bike was seriously heavy. Hauling it up the stairs gave me a bigger work-out than the actual cycling, with the unwelcome addition of pedals ramming into my shins.
Getting it back down the next morning was no easier and involved much swearing and accidental bell-pinging, which echoed around the close. Not ideal for the neighbours.
Unfortunately, opportunities for cycling were limited over the remainder of the week due to the Beast from the East. I didn't dare test the bike in the snow, although I hear my colleague did and was pleased with the results.
I would definitely be tempted to buy an e-bike. Although they come with a hefty price-tag for the casual cyclist or commuter (expect to pay at least £1800 for a decent quality model), the savings I'd make from fuel and parking would pay for the bike over time.
Because I could get around on the e-bike wearing anything – even a dress – without getting overly sweaty, I'd be more likely to use it than a regular model for commuting.
The only hurdle would be storage. I couldn't face the stairs struggle every day and I wouldn't want to leave such a pricey bike in a communal shed or in the close overnight – even with a lock.
Realistically, I will have to wait until I get a house before I can give this serious consideration. If and when this happens, an e-bike would definitely be on my wish-list.
---
Read more:
E-bikes: Could they be the commuting answer for this busy dad?
SPONSORED: Join the e-bike revolution with Electric Bikes Scotland