A new development at Dundee's waterfront is combining relaxation and adventure as a stand-up paddleboarding yoga class gains popularity.
The inaugural session was launched in April and sold out within days, with a follow-up lesson kicking off on Saturday morning at City Quay.
Instructor Michaella Robb teaches the class at water sports attraction Foxlake, which opened in August.
She said: "SUP yoga is a gentle flow of yoga practised on the water.
"It brings you fully present on your paddleboard, your mind stays focused and you become very aware of each movement you create.
"There is a definite element of concentration involved, as soon as you allow your mind to wander – you usually end up in the water!
"You have this busy city just behind you – yet on the water you feel you could be anywhere."
Michaella is one of the first SUP yoga instructors in Scotland, completing her training in Australia in 2016.
The benefits of SUP yoga include improved balance, core stability, full body strength and flexibility.
During the class, the instructor will spend the first 10-15 minutes teaching the class how to balance on the paddleboard and then the yoga will begin.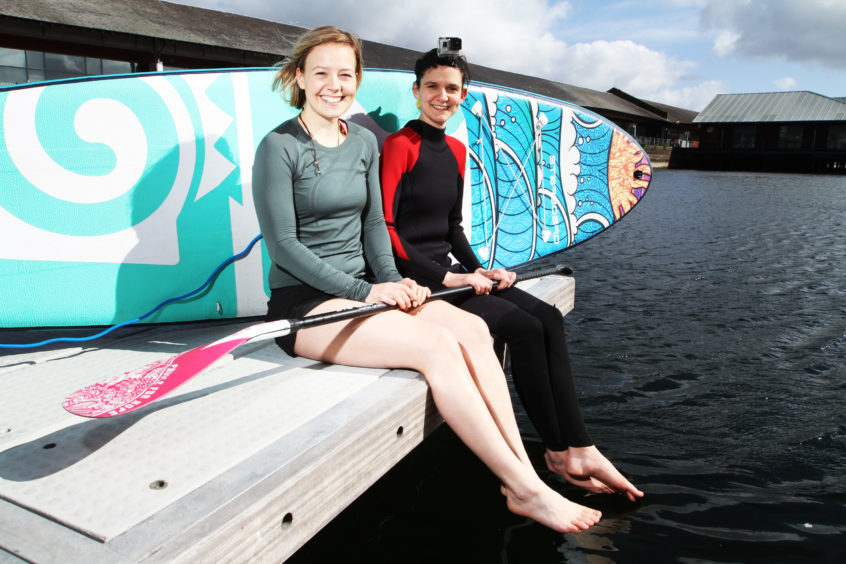 There is capacity for around nine people to take part in the class at a time.
Michaella added: "The SUP yoga classes we run are for all levels.
"People who have never done yoga or paddle-boarded before to people who are advanced yogis – everyone is welcome.
"There is a real sense of serenity doing yoga out on the water –  it's like you almost drift away from the rush of the world back on land.
"It gives you the ability to disconnect from your daily life, and connect more with yourself and with the beauty of nature around you."
Classes are scheduled biweekly on a Saturday morning all through summer and can be booked at www.sattvawellness.co.uk 
---
Great fun — and not just for the people watching me fall in
Yoga has boomed in popularity in recent years, with many different variations springing up – we've had hot yoga, yoga with babies, dogs and even gin for those thirsty moments, writes Nadia Vidinova.
I've lost count of the wacky fitness crazes that come and go, along with their grand and somewhat dubious claims about the health benefits they offer.
So when I heard about Dundee's first stand-up paddleboarding yoga class, I wasn't entirely sure what to make of it.
"Why, though?" was my first thought. I could do yoga in the comfort of my home or in a studio rather than out in the cold, or if I wanted to try paddleboarding itself, I would sign up for that.
Nevertheless, I was intrigued and keen to try it when Foxlake offered me the chance.
I arrived at City Quay on a warm and sunny morning – ideal weather for possibly (OK, definitely) falling into the water.
Michaella, the bubbly and impossibly toned instructor, showed me how to balance on the board and steer with the paddle.
It was sturdier and far more stable than it looks, which was a relief given how quickly my toes went numb when I dipped them in to test the water.
We started off with some basic poses while lying down or kneeling on the board, before moving on to "downward dogs" and various standing positions.
Despite having done sports requiring balance and flexibility for most of my life, I did wobble when standing up for the first time and found that getting into the poses while trying to stay on the board was much harder work than on land.
It was a shock to the system for me – and extremely amusing to the tourists who had stopped by to take photos – when I eventually did fall head-first.
Once the initial fear of the water had worn off, however, I felt much more confident to try more challenging positions and found that, thanks to the wetsuit I was kitted out in, I didn't really feel cold.
When Michaella announced the end of the lesson I realised I had lost all track of time and thoroughly enjoyed myself.
At £30 per lesson, SUP yoga probably isn't an activity I could do regularly, but if you can afford it it's definitely worth it.
The novelty factor also makes it an ideal activity for hen parties, team buildings or simply trying something different with your friends.
Now, any tips for dealing with muscle ache?