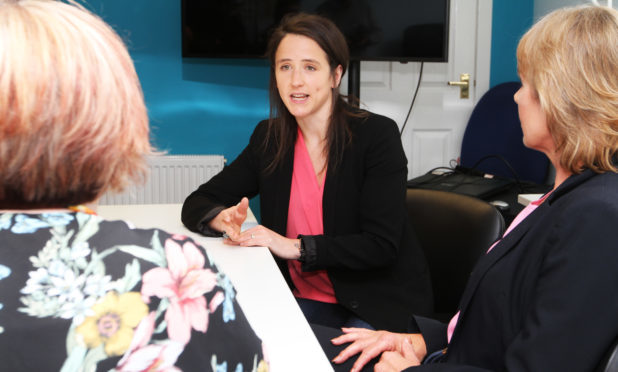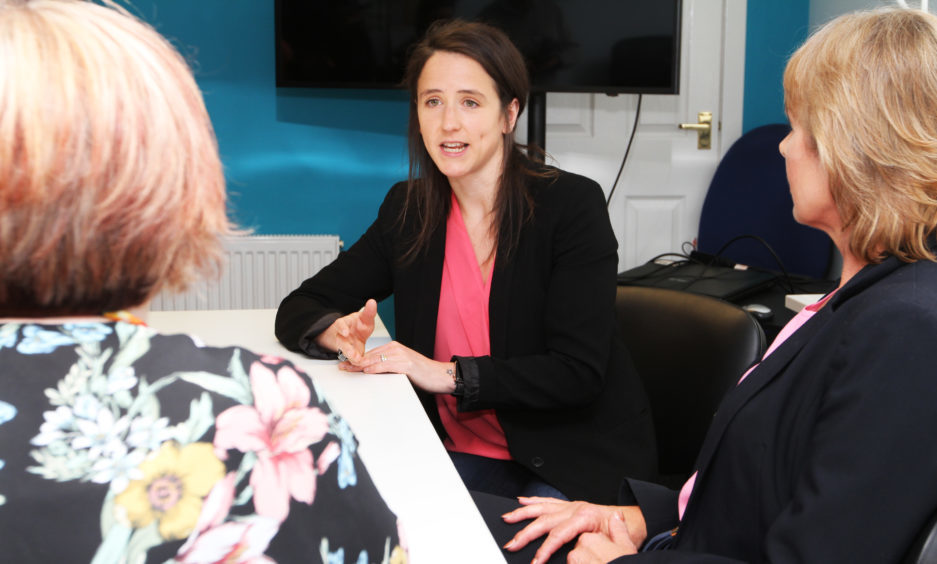 Dundee City Council is investigating an allegation that one of its bin men shouted a sexually aggressive remark outside a rape help centre during high-level discussions about violence against women.
Angus MSP Mairi Gougeon was meeting journalists and women's charity representatives outside the Dundee Rape and Sexual Abuse centre on Monday for the announcement of a new bill to help victims of stalking.
As the interviews were being conducted, a local authority bin lorry drove past and a man was heard shouting "f**k them in the p***y".
A TV interview with Ms Gougeon had to be stopped as a result.
The incident, which took place some time between 10.30am and 11am, was witnessed and confirmed by at least six people.
The centre's manager, Sinead Daly said she would be drafting a complaint to the local authority and hoped the matter would be "dealt with seriously".
She said: "As an organisation we are taking forward a complaint to Dundee City Council, which we are sure will be taken very seriously.
"It's exactly these kinds of comments that are shouted out to women in the streets regularly and are hugely problematic for them.
"We all have a job to challenge this.
"The fact that this remark was targeted at a rape crisis centre was very worrying and it is something that should be taken seriously."
Ms Gougeon described the incident as "shocking" and that "not acceptable."
The SNP MSP added: "I could hear something being shouted as the vehicle went past though I didn't quite catch what was said at the time.
"But I was absolutely disgusted when one of the reporters told me what had actually been said.
"It was especially shocking given the context and the building we were standing in front of.
"We were outside the Women's Rape and Sexual Abuse Centre. There were a number of women outside at the time, including me, and we were discussing providing greater protection to victims of stalking.
"Gender-based abuse is the kind of thing that women put up with day after day and it's shocking that people still feel it's acceptable to shout that abuse at women – not just any abuse – but abuse of a vile and sexual nature.
"This is simply not acceptable and we need to do all we can to stamp it out once and for all."
A Dundee City Council spokesperson said the local authority would be "fully investigating these allegations".
Analysis by Nadia Vidinova
It was a glorious, sunny day as I stood outside the Dundee Rape and Sexual Abuse Centre, chatting with the manager about plans for a new law to protect victims of stalking.
Although media calls like this are a routine part of my job, this one gave me a hopeful, fuzzy feeling – here was a serious and under-reported issue affecting thousands of women, as well as some men, finally getting the recognition it deserves.
Perhaps society really was changing for the better, bringing us closer than ever to eradicating sexism and gender-based violence.
Just as these thoughts were swirling through my mind, I became aware of a man shouting something out of a bin collection lorry as it drove past us.
Two colleagues working for separate organisations later confirmed his words were "f**k them in the p***y". On hearing that I felt the familiar stomach-churning, sinking sensation I always get when faced with catcalling.
Only on Friday I experienced the same when a group of "gents" in an unmarked van drove slowly behind me on Brown Constable Street, leering, shouting and sounding their horn as I walked home from work.
No doubt these men think their behaviour is hilarious "lads' banter". Maybe they're otherwise law-abiding people with families back home and they see this as just a way to amuse themselves or show off.
However, I wonder if they're aware that one in three women globally will be sexually harassed, assaulted or raped in their lifetime?  Would they be laughing if their mother, sister, girlfriend or wife ended up being one of those statistics?
It's time to drop the whole "boys will be boys" attitude and realise that this behaviour is neither funny nor clever – it's sexist, childish, intimidating, and quite frankly pathetic.