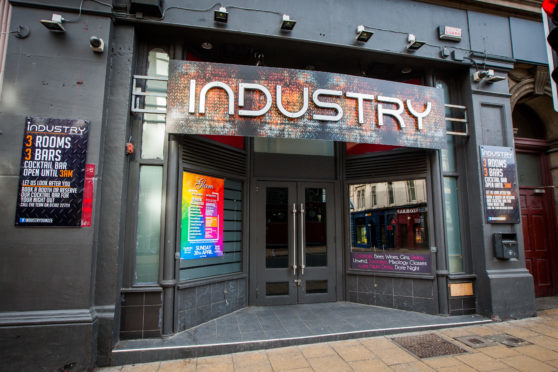 Police have submitted objections to a Dundee nightclub's bid to extend opening hours for the Royal Wedding and other holidays despite it launching its own ID card scheme to curb underage drinking.
Industry nightclub on the Seagate has applied for extended opening hours on several dates over the remained of the year to capitalise on local and national holidays.
The club is currently allowed to sell alcohol between 11am and 3am each day.
It is seeking to extend those hours to 3.30am on Saturday because of the Royal Wedding between Prince Harry and Meghan Markle and then again on May 25 for the local Victoria Day holiday.
The club also wants to extend its opening hours from July 20 to August 4 for the annual trades holiday and for the autumn holiday on September 28.
It is also seeking an extension over the Halloween and Christmas periods but Police Scotland has objected to each separate application over concerns about underage drinking and crime and disorder in the Seagate.
Deputy chief constable designate Iain Livingstone wrote to Dundee City Council's Licensing Board: "The premises is currently subject to an intervention plan by Police Scotland due to the numerous issues at the premises involving underage youths gaining entry and poor stewarding.
"Any extension to the operating hours for the applicant premises may exacerbate this and result in an increase in crime and disorder."
Last month nightclub manager Grant Leslie said Industry was planning to introduce its own identification cards in order to combat an "epidemic" of underage drinkers trying to get into the club.
He said customers would have to present two forms of up-to-date official ID.
To enter the club, revellers would need either this card, a passport or a driving licence or other acceptable for of identification.
The club's solicitor Janet Hood asked police to withdraw their objections after giving guarantees identification would be properly scrutinised by bouncers and bar staff at a meeting with police on May 7.
However, a spokesman for Police Scotland said their objections to Industry's applications had not been withdrawn.
The Licensing Board will consider Industry's application on Thursday.