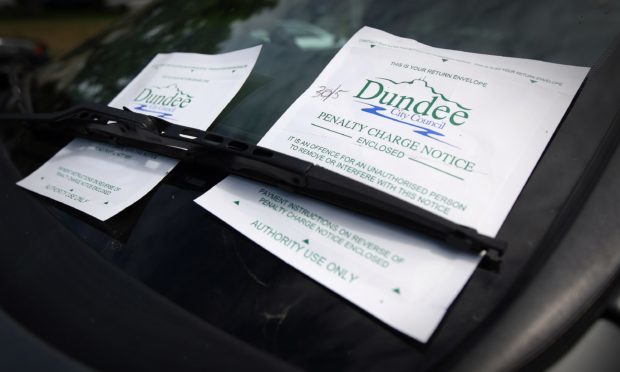 Dundee City Council have failed to recoup years of unpaid parking fines worth an "eye-watering" £1.8 million, it has been revealed.
The local authority has been told to "get tough" on problem parkers after it emerged 22,964 charges remain outstanding, with 33 individual motorists racking up bills of at least £3,000 each.
A further 53 have amassed at least £1,500 in unpaid fees and 222 failed to pay up for 10 or more parking notices.
Council chiefs have seen a staggering £1,873,793 go absent from their coffers as a result of missing fines over the past four years while presiding over repeated tax hikes and cuts to public services.
North East MSP Bill Bowman said the uncollected fines – the earliest of which date back to April 2014 – were a "poke in the eye" for taxpayers.
"The administration is struggling to provide valuable public services, decent bin collection, and Dundee City Council put up its parking charges again this year," he said.
"This eye-watering sum would be best served spent on those services.
"It won't sit well with Dundee's citizens, who may feel that successive council tax and rent increase are a poke in the eye while some people are flouting tickets. What sort of message does this send to motorists who are playing by the rules?
"Only last year a private company managed to take a woman to court over tickets worth more than £37,000. The local sheriff said parking spaces are a 'valuable commodity' in modern life.
"It's incredible a parking firm can act so quickly and a massive statutory body is struggling so much to get what it's due. Maybe it's time for Dundee to get tough with problem parkers like a business would."
Official records show more than a quarter of the 29,266 parking charges issued by the council last year remained outstanding at the start of the new financial year.
Meanwhile, 2,876 fines were either cancelled, waived or written off, with nearly 1 in 10 parking charges overall being successfully challenged.
The streets in Dundee which saw the most fines were Yeaman Shore (1,488), Perth Road (1,144) and South Tay Street (1,080).
A spokesman for motoring group the AA, who have spearheaded a campaign against 'rampant ticketing' by councils, urged policymakers to use money raised through the fees to improve local roads.
A Dundee City Council spokesman said: "There is no excuse for not paying a legitimately issued Penalty Charge Notice and any outstanding PCNs are vigorously pursued by Dundee City Council without limit of time.
"The council uses all legal means open to it to recover money due from unpaid fines. Parking restrictions are in place to help ensure safety for pedestrians and motorists."