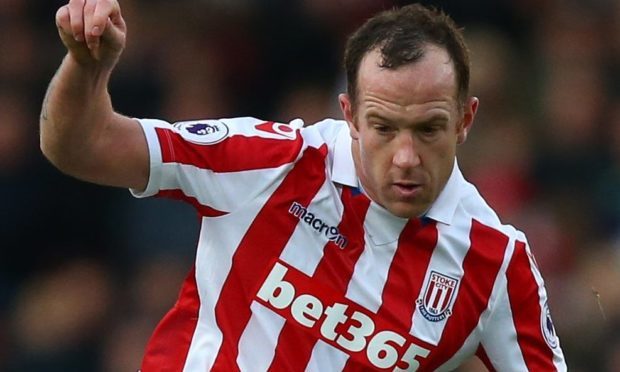 Dundee-born football star Charlie Adam has backed new research into what drives men to commit suicide, six years after his father took his own life.
The Scottish Association for Mental Health, which is a partner of the SPFL, is launching a new PhD scholarship at Glasgow University that aims to discover what leads some men to kill themselves.
Working with the university's Suicidal Behaviour Research Lab, it is expected to deliver ground-breaking research focusing specifically on men to understand suicide risk.
Suicide is the leading cause of death in young and middle-aged men in most Western countries including the UK.
Last year in Scotland, an average of two people died by suicide every day; with three quarters of the deaths men.
Scotland and Stoke City midfielder Charlie Adam, 32,  lost his dad, Charlie Snr to suicide .
Charlie Snr was also a footballer and played for St Johnstone, Brechin, Dundee United, Forfar Atheltic, Arbroath and Partick Thistle. He took his own life in December 2012.
Now a SAMH supporter, his son Charlie welcomed the research.
Charlie said: "It was a real blow to me losing my Dad. It knocked me big time.
"It's great that this research will look to understand suicide risk in men. It's a subject that's close to my heart."
Using a new theoretical model of suicidal behaviour developed by Professor O'Connor, the three year research programme aims to provide a deeper understanding of suicide risk in men.
Believed to be the most in-depth study of its kind in UK, it is fully funded by SAMH, one of the largest providers of suicide prevention interventions and training in Scotland.
SAMH chief executive Billy Watson said: "Over the course of the last year SAMH and the suicidal behaviour research lab have partnered together to create this research that will enhance our understanding of suicide.
"We know men are particularly at risk, especially men in their middle-years.
"We need a deeper understanding of why some risk factors contribute to men completing suicide, compared with those, who, with the same risks factors, don't."
Professor Rory O'Connor, director of the suicidal behaviour research lab explained that there is still limited understanding about the "factors" which lead to suicide.
Meanwhile, a postgraduate Dundee University student has said famous faces like Prince Harry and Ryan Reynolds can play a key role in reducing suicide rates among men.
Charlotte Starkey, a postgraduate psychology student, said public figures discussing their own mental health issues may make more men – particularly those over the age of 45 – willing to speak about their own issues.
Charlotte will be discussing her research on how male gender influences thoughts of suicide at the University's Scrymgeour Building on Thursday.
She believes men in their 30s and 40s can feel constrained by a perceived need to fulfil the traditional "alpha male" stereotype and that similarly-aged personalities from the world of music, sport and screen could help to transform attitudes towards mental health.
She said: "I've got a lot of respect for celebrities that admit to having mental health difficulties, but I would say that we're not getting enough of them or the right demographic of men."