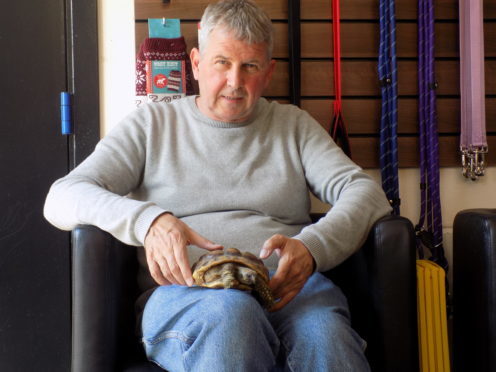 A runaway tortoise was reunited with its owner after making a 300-yard dash for freedom.
Moira the tortoise was discovered by staff at Grewar's Farm Shop at Dronley Farm just north of Muirhead on the outskirts of Dundee.
They called the Scottish SPCA, whose inspectors were able to reunite the roaming reptile with her owner, Alan Brown.
It is understood Moira had been missing for several days before she was discovered at the farm shop.
Animal rescue officer Coreen Hill said: "I received a call last Thursday when the tortoise, named Moira, was found hiding out in the shed behind the shop.
"The caller was concerned that she may have been there for some time, although it's not as though she was short on tasty snacks.
"I took her along to our local animal rescue and re-homing centre for a check-over and popped posters up in the local area hoping to find her owner.
"Luckily Moira was absolutely fine, and has now been happily reunited with her family."
This wasn't Moira's first attempt to make a bid for freedom but her grateful owner was surprised at how far the tortoise had managed to stray from home this time.
He said: "Moira has a history of escaping.
"We inherited her from another family a year ago, who said that Moira had managed to disappear for several months before turning up in their neighbour's garden.
"I have another tortoise, and usually the pair are quite content in their outdoor run soaking up the sun.
"I can't believe how far she managed to get, the shop is at least 300  yards away from our house so she's made quite a journey out of it.
"We're delighted to have Moira back home and are grateful for the shop owner and the Scottish SPCA for reuniting us."
Last year the Scottish SPCA helped reunite 1,063 animals with their owners. Anyone with  concerns about an animal's welfare should call their animal helpline on 03000 999 999.