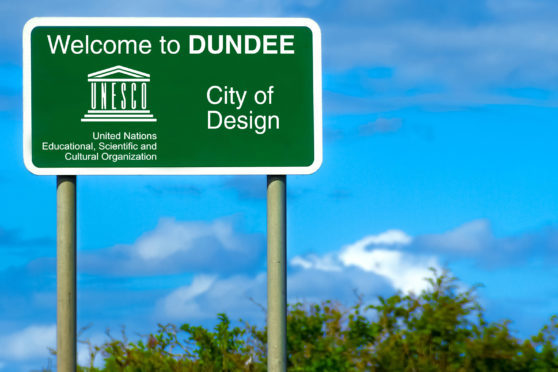 Dundee should promote its UNESCO City of Design status on road signs, a senior councillor has claimed.
Depute Lord Provost Bill Campbell said advertising the accolade on signs on the approach to Dundee would encourage more people to visit the city, rather than simply driving by.
Speaking at the council's policy and resources committee, the SNP councillor for Dundee's West End said the city should have been boasting about becoming the UK's only UNESCO City of Design for years.
He said: "When will we get signage proclaiming Dundee as a UNESCO City of Design?
"We received the accolade three and a half years ago and by the time the V&A opens it will be nearly four years."
Mr Campbell said Dundee is only one of a handful of cities to be awarded the title and it was all the more noteworthy because of how small Dundee is compared to others like Berlin and Buenos Aires.
He said: "We want to encourage as many people to come to the city to visit as possible and I feel we should be promoting such a fantastic award. When can we expect to see signs that tell motorists Dundee is a City of Design?
"I hope that when the V&A opens we don't take as long."
Dundee City Council's executive director of city development Mike Galloway said he would respond to Mr Campbell with a timescale for the signs within a week.
Councillors agreed to spend £60,000 a year for the next three years as part of its funding to support the UNESCO City of Design team.
The report presented to councillors revealed that more than 500 people took part in last month's Dundee Design Parade in front of around 3,000 spectators.
Visitors numbers to the Factory Shop in Reform  Street, created for Dundee Design Month, have also exceeded expectations.
Planning is already underway for the Dundee Design Festival 2019 while discussions are currently taking place with the Scottish and UK Governments over plans for Dundee to host a major international festival in 2022.
The city originally wanted to host a UNESCO World Festival of Creative Cities in 2023 if it had won the European Capital of Culture title for that year.
Following the European Commission's decision not to award that title to a UK city because of Brexit, organisers have now decided to press ahead with the festival a year earlier.
It would bring representatives from all 180 cities in UNESCO's Creative Cities Network.