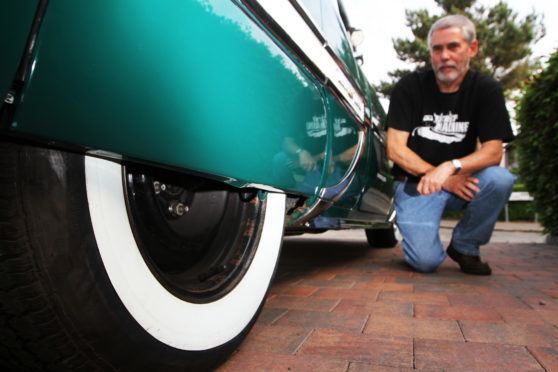 A classic car enthusiast is celebrating the restoration of his pride and joy after the return of a lost hub cap.
The part went missing from Pete Sinclair's 1953 Chevrolet Bel Air as he was driving it from his son's garage, where he keeps his collection of motors.
The 63-year-old from Broughty Ferry launched an appeal to get it back and was delighted when a neighbour came up trumps.
The man found the hub cap in his garden, put two and two together and took it to Mr Sinclair's son's home in Blake Place.
Mr Sinclair, who retired from the fire service in 2005, said he was thrilled to have his car back in one piece.
He said: "All's well that ends well. It was very decent of the guy to hand it back. He must have seen it right away as his street was one of the first places I looked.
"He knew old cars were kept in my son's garage so figured it came from there. He went to knock on my son's door when they weren't in so waited until he saw someone in the garage.
"I gave him a bottle of whisky for his troubles, which he didn't want to take at first.
"It's a bit scratched and dented from coming off, but it's at one of the back wheels so that's not too bad.
"I'm delighted to get it back as I've looked into getting replacements and it's really expensive getting classic car parts sent across from America."
Mr Sinclair, who stays in Garten Street, Broughty Ferry, is looking into getting his hub caps fixed in place more securely in future.
He has a number of classic cars, including a vintage Morris Minor.