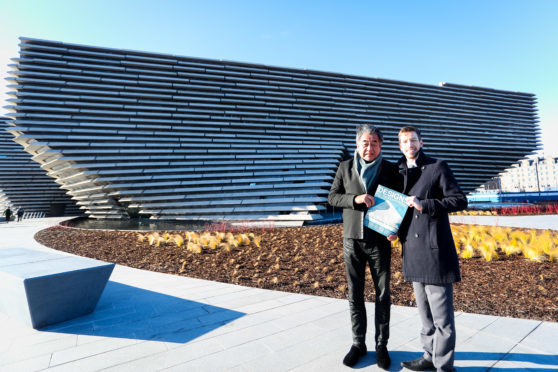 Dundee's new V&A museum has been the "key to unlocking the city's new-found international fame" according to council leader John Alexander.
With just 100 days left until the £80 million architectural marvel opens, the city is gearing up to welcome an estimated 500,000 extra visitors every year.
The waterfront museum, created by the designer of the Tokyo 2020 Olympics stadium, Kengo Kuma, has brought the gaze of the world upon the city due to its other-worldly design.
In the past 12 months the city has appeared in the world's biggest selling travel guide Lonely Planet, New York City newspaper the Wall Street Journal, luxury travel magazine Conde Nast, as well as US publication Bloomberg, and the Los Angeles Times.
Mr Alexander says the exposure has served to highlight what those living here already know — that Dundee is a "cracking city in a stunning location".
"In 100 days, the world's gaze will be upon Dundee for the opening and that opportunity is one which we must grasp with both hands," he said.
"The city's confidence and that of Dundonians generally is reaching new heights and there is a clear and evident sense of pride with Dundee's new found international fame.
"The V&A has been key to unlocking that and in creating the buzz that now exists across the region.
"It's easy to overlook the fantastic assets the city has – we've got dolphins, castles, hills, water sports, stunning public parks, the UK's first purpose built public observatory and now an international museum of design in the V&A.
"The energy and excitement is real and Dundee is finally being recognised for what many of us already knew, that it's an absolutely cracking city in a stunning location with much to offer."
Dundee waterfront will host a special event to mark the opening of the V&A, on September 15.
The 3D festival will feature live music and a range of community activities.
Philip Long, director of V&A Dundee, said that although there will be huge excitement around the time the museum opens, the attraction's influence will grow over time.
He said: "The journey to create V&A Dundee has already captured the imagination of audiences in the city itself and far beyond, and anticipation is growing towards its opening. The public opening provides a unique moment in time to celebrate the museum, the city and its transformational journey.
"I'm really looking forward to welcoming people to the museum. The team behind it has worked passionately on it for many years. But of course it doesn't become a museum until people are in it, taking part, being inspired, getting involved, planning to come back again and again."