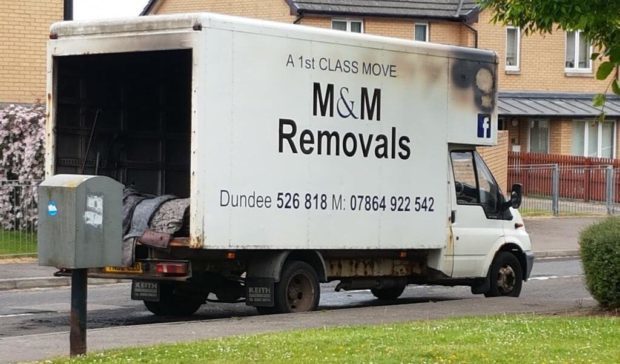 A Dundee removal company boss says his business has been "taken away" from him by vandals who left a blaze tearing through his work van.
Police are investigating three incidents of wilful fireraising reported to emergency services on Thursday night in the St Mary's and Ardler areas of the city over the space of just a few hours.
Crews were sent to extinguish a burning caravan in St Fillans Road at around 10pm and almost immediately, received fresh calls to tackle a burning removals van in nearby Scotscraig Grove.
Half an hour earlier, a child's buggy had been set on fire in a close in St Mungos Terrace, St Mary's.
Mark Phinn, who runs M&M Removals, said he had been left feeling "physically sick" after his business went up in flames.
The 29-year-old said: "I was out last night playing pool and I got a phone call just after 10pm to say the van is on fire.
"It's totally ruined. The police and fire brigade said I could drive it because the cab is unaffected but the inside is totally burnt out and the door is gone.
"I had jobs on today so I've been forced to hire a van – my top priority right now is just making the jobs I have on for customers.
"It's totally ruined my business – the van basically is the business and someone has taken that away from me. I'm looking at it now and I feel physically sick.
Vans set ablaze in Dundee as firefighters tackle three separate incidents
"It was empty at the time – thank god – because we never leave things in it overnight.
"The police have chapped a few doors but by the looks of things there's no CCTV and now one saw anything."
No casualties have been reported in any of the incidents but Police Scotland are investigating to establish whether the fires are linked.
A spokesman for the force said: "Although these incidents are not being directly linked at this time, the possibility of them being connected is being considered.
"Officers are keen to trace a man described as in his 30s, about 6ft tall with short spiky hair, wearing a grey hoody or something similar, sun glasses, with a local accent who was seen in the area before the first incident in St Mungo's Terrace, and was seen walking away from the street when the first fire started.
"The danger caused by these three fires, particularly the one in the communal close in St Mungo's Terrace, cannot be overstated. Fortunately all three fires were extinguished relatively quickly.
"Anyone with any information should contact Police Scotland on 101."