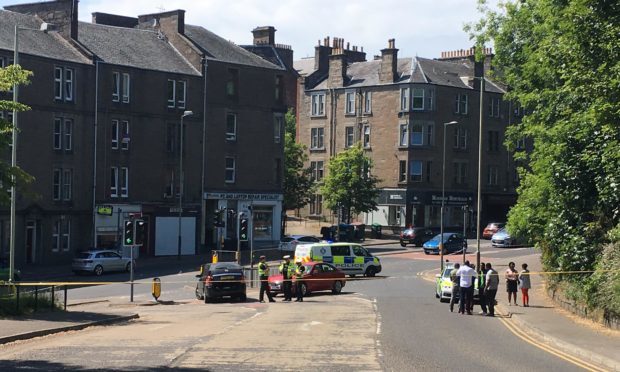 A man was taken to hospital with a leg injury after being hit by a car on a busy Dundee road.
The incident took place at the junction between Dudhope Terrace and Lochee Road at about 1pm on Friday, sparking traffic delays.
The man, aged 44,  suffered a suspected leg fracture and was taken to hospital.
It is understood a second car also collided with the first vehicle shortly after the man was knocked down.
Dudhope Terrace was closed as a result of the incident, causing major delays on Lochee Road as emergency services attended.
At the time of the incident, a spokesman for Tayside Police Division said: "Police Scotland are in attendance at a road traffic collision at the junction of Dudhope Terrace and Lochee Road, which happened at 1pm.
"A pedestrian has suffered leg injuries following a collision with a car. His injuries are not thought to be life threatening.
"Dudhope Terrace is currently closed until further notice."
At least three police vehicles were on the scene following the incident, with officers directing traffic and pedestrians away from the cordon blocking off Dudhope Terrace from Lochee Road.
An eyewitness said: "There was a red car and a blue car at the junction, stopped in the middle of the road at an odd angle to each other.
"A big group of people, maybe around six or seven, were gathered around the vehicles talking to police officers.
"There were quite a few police officers around. Three of them were talking to the people involved and a few others were walking around the scene or directing people away.
"The cars were all having to turn back or divert their route and at first there was a build up of vehicles. After a while the road cleared up a bit and traffic started moving a bit more normally."