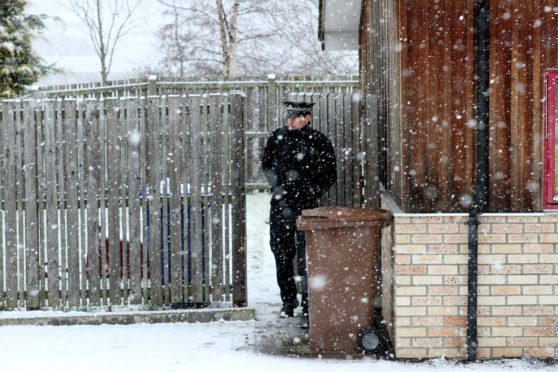 A 33-year-old Dundee man has appeared in court accused of cutting off a disabled woman's hand to steal a ring on Valentine's Day.
Stephen Brisbane appeared at Glasgow High Court charged with cutting off Sandra McGowan's right hand after entering her South Road home "uninvited".
It is claimed Brisbane assaulted Miss McGowan, causing her to fall from her wheelchair.
He is then accused of grabbing her wrist and severing her hand with a knife.
Miss McGowan passed out and prosecutors claim Brisbane then took her hand away, robbed her of a ring and failed to notify the emergency services to get her medical treatment.
Brisbane is also said to have stolen a number of other items from Miss McGowan's home including a mobile phone and door fob.
The charge states Brisbane attacked Miss McGowan to her severe injury, permanent disfigurement and impairment and to the danger of her life.
He has also been accused of threatening his sister at an address in Dundee and stealing a phone.
No plea was made during a  hearing at Glasgow High Court on Monday.
Lord Mulholland continued the case until July.
Police were called to Miss McGowan's home on South Road in the Charleston area of Dundee shortly after 8am on February 14.
She was rushed to Ninewells Hospital.
Police stood guard at the house for several hours after the attack, with CID and forensics officers entering the property as part of the investigation.
Officers also swooped on a flat in Byron Crescent as part of their investigations into the incident.
They spent several days at the flat.
Brisbane was arrested by police later on Valentine's Day and appeared in court for the first time the following day.
He was subjected to a psychiatric assessment to ensure he was fit to stand trial.
Following the incident Miss McGowan's family said there had been "no logic" to the attack.
Miss McGowan has been confined to a wheelchair since suffering a stroke.