The new £28.7 million Baldragon Academy was officially opened by Deputy First Minister John Swinney on Wednesday morning.
Mr Swinney was joined by the Lord Provost Ian Borthwick and other dignitaries, pupils, teachers, staff and parents at a special ceremony held in the school.
Pupils have been in the building since February and Mr Swinney's visit officially marks the school opening, alongside the £8.1 million replacement for Sidlaw View Primary School and Jessie Porter Nursery.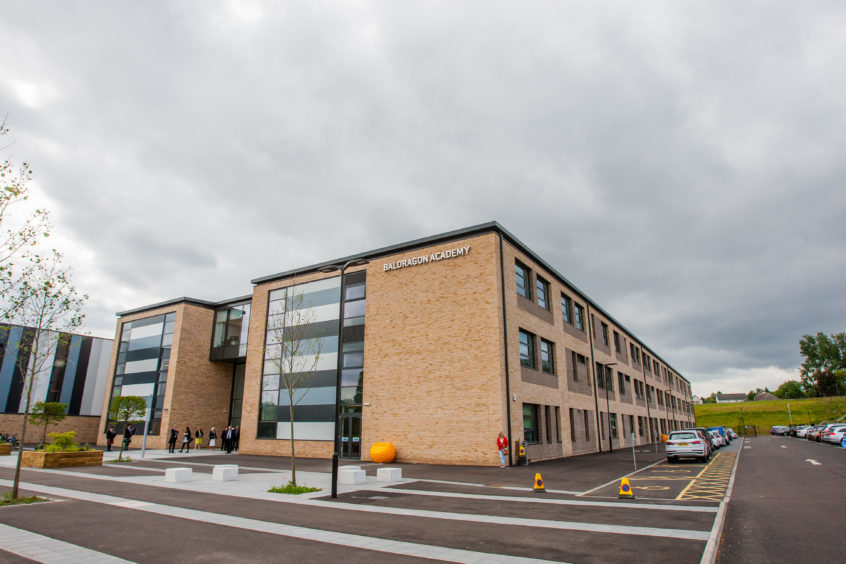 His visit coincided with the First Minister Nicola Sturgeon's visit to Largs Academy in Ayr and Education Minister Shirley-Anne Somerville's visit to Boroughmuir Academy in Edinburgh – secondary schools which were all officially opened on the same day.
Pupils showcased their musical talents with a rousing rendition of songs from the film Rocky, as well as an apt performance of musical favourite Bring On Tomorrow.
It was also announced Baldragon head teacher Mr Kenny Hearn is to retire at the end of the school session, having successfully overseen the schools' transition into its new estate.
Mr Swinney said the Scottish government is planning further investment in the school estate until at least 2021, announcing he will soon unveil plans for beyond that to parliament.
He said: "I am very impressed with the new Baldragon Academy.
"We have worked with our partners in the Scottish Futures Trust to create an outstanding learning environment.
"When we were elected to government in 2007, 37% of young people were being educated in what were deemed to be unsatisfactory or poor buildings.
"We have reduced that number to 16% as a consequence of our investments to date and we aim to get that further reduced.
"We have commitments to the schools for the future programme until 2021 and of course Dundee City Council has already opened Harris Academy which was part of that programme.
"There is a sustained programme of investment under way to make sure we create these learning facilities which are necessary for young people in Scotland.
"We can, of course, only give that commitment until 2021 and I intend to make further announcements later this year about what may follow this programme which I will share with parliament in due course."
Mr Swinney added it was important young people are thoroughly educated in an appropriate manner using new technologies in a sophisticated environment.
He said: "We have to make sure young people are aware of the technologies they may be required to access in the world of work or further and higher education, so ensuring our schools are digitally and technologically connected is a very important part of that process."
The Scottish Government highlighted since coming into power in 2007 a total of 751 schools have either been built or refurbished. A total of £1.8 billion has been invested through the Schools for the Future programme, with some £1.13 billion coming from the government and £665 million from local councils.