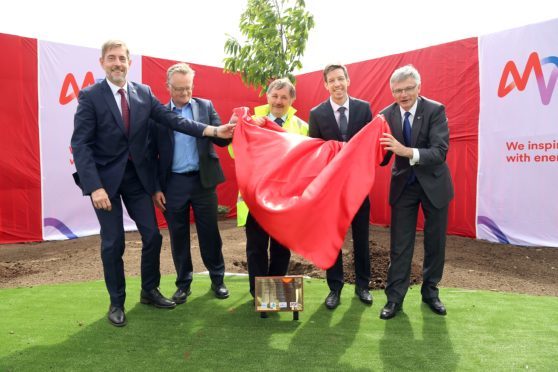 Work on a £125 million replacement for the Baldovie Incinerator began in Dundee on Monday.
The new combined heat and power plant on Forties Road will replace the current incinerator in two years time.
Heat generated from the plant will be funnelled to the nearby Michelin factory while the plant will also generate electricity as it works.
The incinerator is being built by German energy company MVV in partnership with Dundee and Angus councils and Michelin.
MVV Energie chief executive Dr Georg Müller claimed the new plant will be more efficient and better for the environment than the current incinerator.
He said: "This facility is an essential part of the successful  circular economy; a key element of the transition to a resource-efficient economy and environment.
"It offers significant advantages for all three partners and therefore for the region as a whole."
Dundee City Council leader John Alexander said:  "It is great to see this huge step for the future of waste disposal for both Dundee and Angus making such significant progress.
"The plant represents another ambitious stake in the local economy by two giants of the European commercial world, which will supply essential services and add value for years to come."
The SNP councillor added: "Developing and delivering a much more environmentally-friendly way of handling waste was vital for both local authorities as we move towards meeting aspirational new targets."
Angus independent councillor Bob Myles said: "All of us at Angus Council are delighted to see work begin on our new energy from waste facility. It represents a hugely positive investment in all our futures in Angus and Dundee and that of our citizens of the present and the future."
Michelin factory manager John Reid said: "This is a perfect project for Michelin, Dundee and all of Scotland.
"As a manufacturing plant, we operate in an extremely competitive world and this innovative project offers us a real gain in terms of industrial performance while at the same time contributing significantly to improving the environment."
The new incinerator will last for 25 years and burn around 110,000 tonnes of waste each year, most of which will come from Dundee City and Angus councils.
MVV, which took control of the current incinerator in November, already operates a similar heat from waste plant in Plymouth.