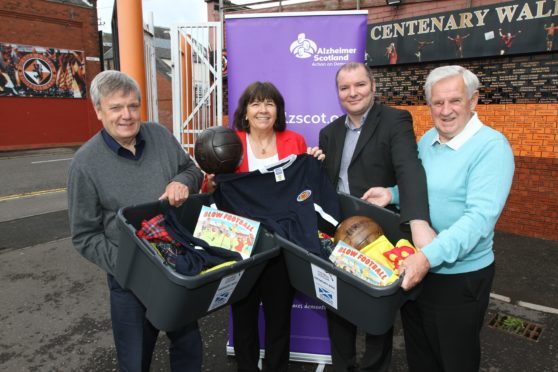 Dundee's two professional football clubs have received dedicated "memory boxes" to help fans suffering from dementia.
Developed by the Scottish Football Memories Project, the boxes are designed to stir the powers of recall and typically include an old football, an old pair of football boots, a replica vintage Scotland football shirt, a lion rampant flag, an old football rattle, carbolic soap and a jar of Bovril, among other objects.
Richard McBrearty, project director of Football Memories Scotland, presented the Dundee United box to Amanda Kopel, whose husband, former United star Frank, died after developing dementia in his late 50s.
Amanda said: "I am delighted to support the excellent work being done in Dundee by the Football Memories Project.
"Dementia affects many people across all of society, which is reflected in football, including my own husband, many dear friends and former footballers who are either living with it or having succumbed to it."
The Dundee FC box was received by club legend Gordon Wallace, who volunteers with the Scottish Football Memories project.
The presentations took place at Tannadice, which was hosting the North East Scotland regional Football Memories conference.
Richard McBrearty said: "We are delighted to bring two of the boxes to Dundee where they will be a community resource for many years to come.
"The Frank Kopel box includes a replica of Frank's first contract with Dundee United — he was the first signing made by Jim McLean. The boxes will be used by the local volunteer network at their local reminiscence groups at Tannadice, Dens and St Aidan's in Broughty Ferry."
Dundee United chairman Mike Martin said: "Football Memories is making such a positive contribution to people living with dementia, as well as to mental health and social inclusion generally.
"It is a wonderful project with powerful outcomes and Dundee United has been a strong supporter from the outset. In fact, I am proud to say, the football memories initiative at Dundee United was founded more than five years ago and as such predates the official formation of the Scottish Football Memories Project."
Dundee FC director Steve Martin said: "We are delighted that the Football Memories Project has recognised the pioneering reminiscence work taking place in Dundee.
"These boxes will enable more people with dementia to benefit from the power of community-based reminiscence which has the ability to greatly enhance the quality of life of people with dementia or memory-based conditions and that of their families and friends."
The Football Memories Project is a partnership between Alzheimer Scotland and the Scottish Football Museum.
It trains volunteers to spend time with people with dementia who have an interest in football to talk about teams and matches from the past while working with images and memorabilia to stimulate memories.
Tannadice hosts sessions on the third Wednesday of each month between 2-3.30pm.
There are meetings at Dens Park on the second Tuesday of each month between 2-3pm.
St Aidan's Centre in Broughty Ferry hosts meetings on the last Tuesday of each month between 11am and 12.30pm.