A father and son have made graduation a family affair with the pair set to pick up matching Dundee University degrees.
Around 3,000 students are expected to graduate this week, with ceremonies getting under way at the city's Caird Hall on Wednesday morning.
Sulaiman Badmus, who graduated on Wednesday in mechanical engineering, will witness his father Abdulwaheed feel the tap of the Dundee bonnet as he graduates from Scots Law on Thursday.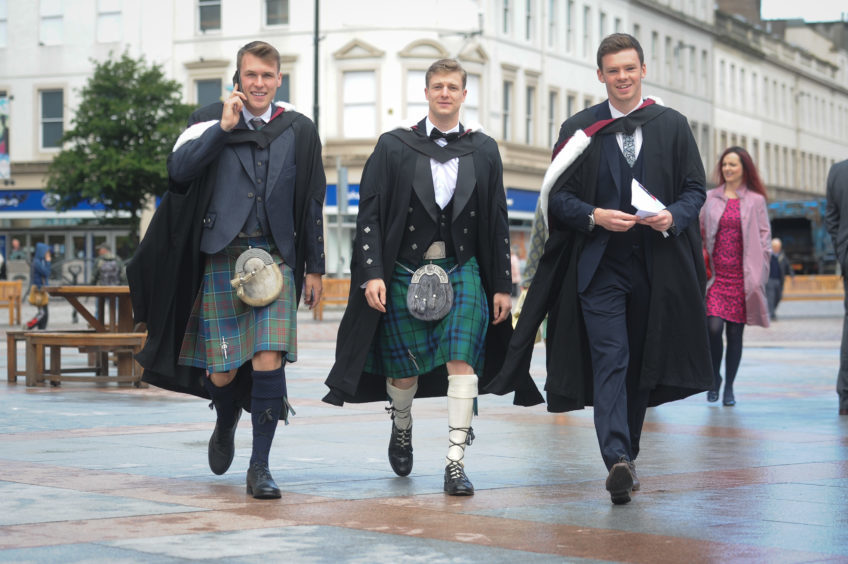 The pair follow in the footsteps of Sulamain's sister Mariam, who graduated from the University two years ago.
Meanwhile, Abdulwaheed's wife Khadijat, who will be watching the ceremony, is also due to finish her own degree in Scots Law later this year.
Sulamain said the friendliness of Scottish people initially attracted the Badmus family from Ibadan in Nigeria to Scotland.
He said: "Everything is wonderful about Dundee. We think it is marvellous.
"We were able to integrate so quickly into Scottish culture and feel much more involved here than anywhere else."
Abdulwaheed added: "Dundee is an excellent example of inclusive education, it is laudable and something we, as graduates, should be proud of.
"Studying in Dundee is like a second chance. I will be 55-years-old next year and the University helped me to start a new career with a promising future."
After graduating, Abdulwaheed says the family intends to continue to practice law in Scotland.
He said: "We don't just want to stay here in Scotland. We want to work here and run our own family law for and be ambassadors of the University."
Meanwhile, applied computing graduate Joe Davis is thanking his lucky stars after landing his dream job at one of the world's top gaming companies.
Originally from Inverness, Joe admits a role at Grand Theft Auto developer Rockstar Games did not look likely to be in his future after leaving school with one higher.
He later attended college but it was only after taking opportunities made available through the University that he felt confident enough to apply.
Joe said: "My course and the opportunities I've had here in Dundee, like working at the Students' Union, really helped me develop even more skills alongside my studies.
"Without the degree route that Dundee offered, I honestly wouldn't have got a chance at University never mind a graduate level job after it.
"I'm thankful that my passion for games and extracurricular experiences where enough for Dundee to consider me."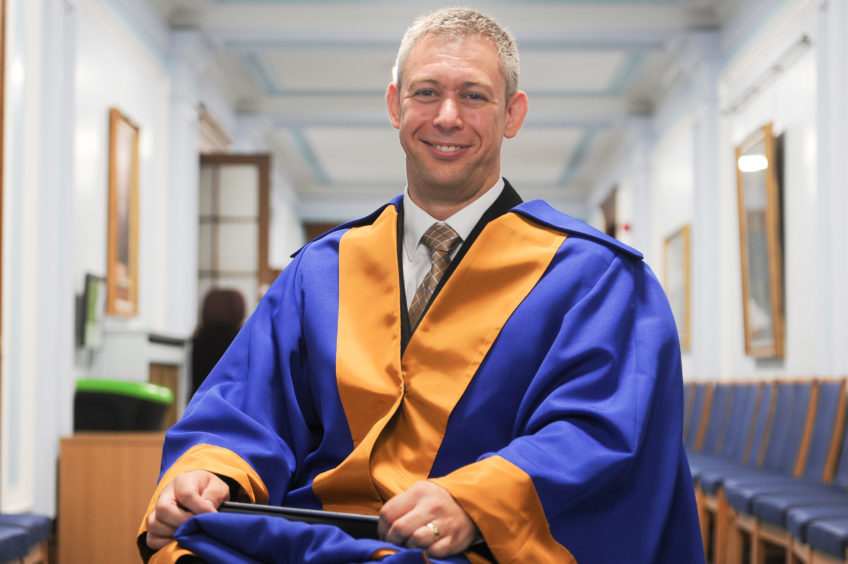 Tomi Adekoya, 24, graduated with a masters in biomedical engineering and said proud family members had travelled all the way from Nigeria and up from England for the occasion.
She said: "Lots of my family came from different parts of the world so I'm really humbled. They just came out to support me."
Forensic anthropology graduate Fiona Alexander said: "It's overwhelming. We're  a really small class. We became quite a family so it was a wonderful experience to graduate all together."
Ahmed Mahmoud, 30, graduated with a masters in orthodontics which took him three years to achieve. It came off the back of six years of studying dentistry.
He moved from Egypt to study in Dundee with his wife, while their children remain in their home country with their grandparents.
Despite his achievement, Mr Mahmoud said he still has a further "four or fives years" of education ahead of him.
He added: "It's been a hard time but we successfully made it and now I'm a specialist. It was a long journey. It feels like half the way because (I) still have a long journey to fulfil. We are looking forward to more studies."
Naji Alharethi, 31, moved from Saudi Arabia to study an MDSc in Prosthodontics.
He said: "I would like to thank everybody who supported me and motivated me to finish my masters. I enjoyed my journey during my studies. I support everybody to study at this university."
Later this week V&A Dundee architect Kengo Kuma and Snow Patrol singer Gary Lightbody will pick up honorary degrees from Dundee University.
For more see Thursday's Courier