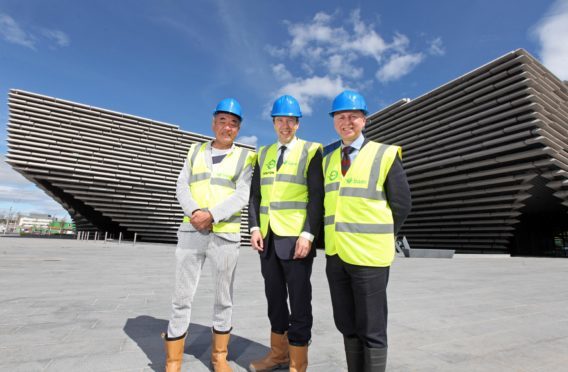 UK Culture Secretary Matt Hancock has hailed Dundee as a "global cultural destination" after visiting the city's new V&A museum.
Mr Hancock met leaders from Dundee's creative industries at Discovery Point before being given a tour of the building, alongside its world-renowned architect Kengo Kuma.
The Culture Secretary said Dundee was a model for how cities can use creativity to drive local regeneration and economic growth.
"It is clear to see the transformational effect V&A Dundee is having on the whole city," he said.
"Investment in culture and the creative industries makes places more attractive to business and visitors. It can also be a major catalyst for regeneration.
"Dundee's ambitious plans have secured its place on must-visit lists around the world.
"The museum will be an international success and cement the city's position as a global cultural destination."
V&A Dundee expects to attract around 350,000 visitors a year and will tell the story of design in Scotland from the fifteenth century to the present day.
Two thirds of its collection is coming on long-term loan from the V&A in London, and the museum will host and develop its own blockbuster temporary exhibitions.
Philip Long, director of V&A Dundee, said: "We were delighted to welcome the UK Culture Secretary to V&A Dundee for a tour of the new museum with architect Kengo Kuma.
"It was also great to have the opportunity to introduce him to some of the city's creative industries leaders who are so important to Dundee's economy.
"We are incredibly proud to be part of Dundee, a thriving city with lots to offer, and look forward to welcoming our first visitors when the museum opens on Saturday, September 15."
The V&A Dundee project has been supported by £14 million of National Lottery funding from the Heritage Lottery Fund and £5 million from the UK Government.
The Scottish Government put forward £38 million and has guaranteed a further £1 million each year for the next decade.
The Culture Secretary also spoke about the devastating fire at the Glasgow School of Art and pledged his support.
He said: "The terrible fire at The Mackintosh Building at The Glasgow School of Art last week is a shocking blow for staff, students and the people of Glasgow.
"The UK Government stands ready to help. We played our part in the previous rebuild and we are ready to play our part once more."