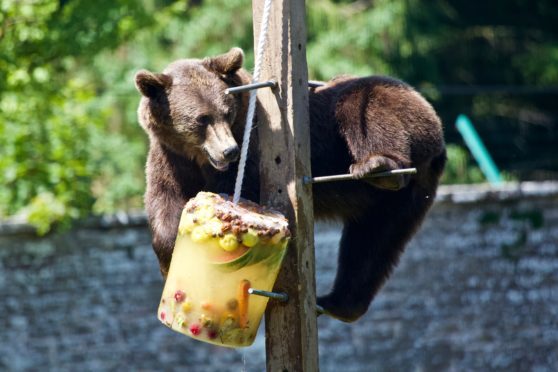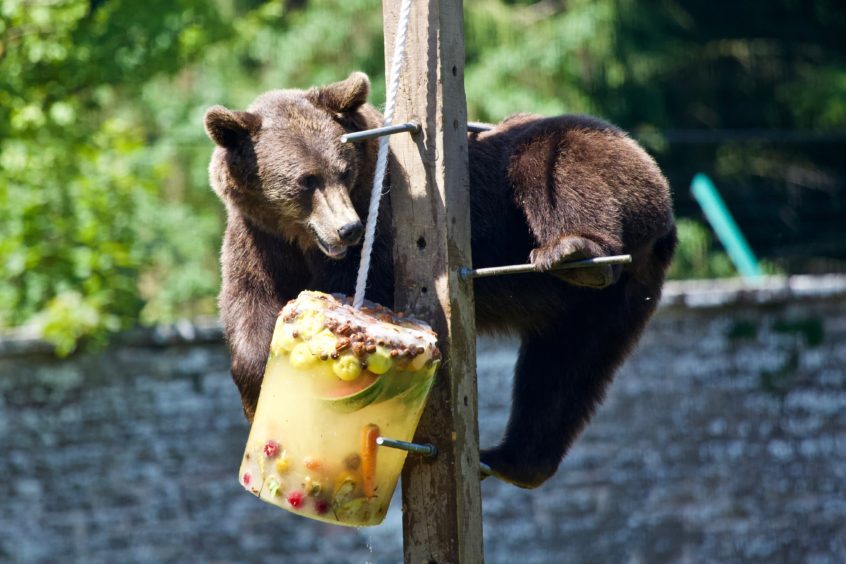 The mercury continued to rise on Thursday as Scotland came close to breaking temperature  records.
Parts of the country came within a whisker of  smashing records set 125 years ago.
The hottest part of Courier Country was Perth and Kinross, with the likes of Perth, Crieff and Strathallan hitting 30C.
The hottest June day north of the border was 32.2C at Ochtertyre in 1893. The hottest-ever day in Scotland was in 2003, when Greycrook saw a roasting 32.9C.
While it wasn't quite that hot in Dundee, zookeepers at Camperdown Wildlife Centre still treated their European brown bears to a hefty 80kg ice lolly to help them cool down.
The three bears, Brum, Brumma and Maja, enjoyed the hand made treat, which was made over several days in a large freezer.
The concoction contained sugar free fruit juice layered with watermelon, carrots, apples, grapes, plums and a variety of whole nuts. It was then hung from one of the bears' climbing poles.
Other animals were also getting in on the action and enjoying frozen fruit, water sprays and misting sessions to keep them cool.
Despite it not quite being a record-breaking day, it was still hot enough to seemingly melt the roof of Glasgow Science Centre.
As the heat in Scotland's biggest city reached 30C, a "black goo" began leaking through gaps in the tiles.
Sharon Lyons, the centre's communications coordinator, said: The structural integrity of the roof is completely sound but we are left with a bit of unsightly black goo on the roof."
And as the heatwave is expected to continue for at least the remainder of the week, Police Scotland has issued a warning about the potentially fatal consequences of leaving animals in vehicles.
A spokesman said: "Please do not leave your pets in the car, even if only popping to the shops – cars heat up very quickly. The temperatures in a parked car, even in the shade with open windows, can rapidly reach a level high enough to seriously harm or kill your pet."
The hottest recorded temperature in the UK for the second day in a row was perhaps unsurprisingly further south in the Welsh town of Porthmadog.
The coastal town saw highs of 32.6C — a few degrees shy of the 35.2C Welsh record which was noted in Hawarden Bridge in 1990.
The UK record was set in 2003 when Faversham, Kent, was baking in a heat of 38.5C.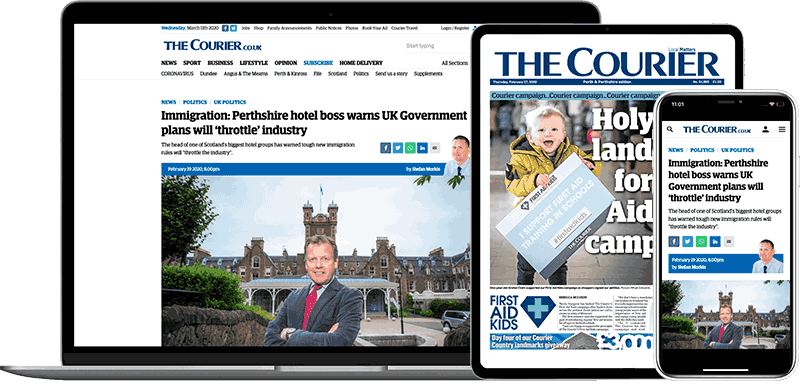 Help support quality local journalism … become a digital subscriber to The Courier
For as little as £5.99 a month you can access all of our content, including Premium articles.
Subscribe