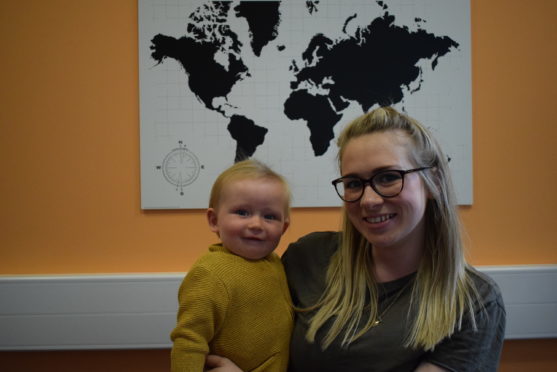 More than 750 happy graduates will celebrate in the city square on Thursday on the first day of Abertay's graduation celebrations.
Two ceremonies, one in the morning and the other set for the afternoon, are to take place at the Caird Hall.
All four of the university's academic schools – design and informatics, social and health services, science, engineering and technology and business – will hand out well-earned degrees over the day.
Among them is Hannah Manville, who worked towards her BSc in Psychology.
The young mum, who is originally from Birmingham, finished the last stage of her course earlier in the summer after taking a year out to have her little boy, Freddie.
She said: "I think my last term was the best I've had, and in terms of grades it was probably the best I've done.
"I felt more motivated because I had Freddie and I thought, 'if I'm going to spend all this time away from him I'm going to make it count', so I put in the effort to make sure it wasn't wasted."
Abertay will award three honorary degrees to scientific and exploration experts.
Craig Mathieson, who lead the first Scots expedition to both the North and South Poles, former president of the Institution of Civil Engineers Dr Jean Venables and Professor of Mycology Lynne Boddy of Cardiff University are all being recognised for their work in their respective fields.
The heads of each school awarding their honorary graduates explained why they made their decision.
Head of social and health sciences Andrea Cameron said: "Craig Mathieson tours schools giving motivational talks to pupils and his Polar Academy charity supports an annual pupil Arctic expedition.
"Participants speak of the life-changing impact and all that the academy requires of them is that they commit, they persist, and they become a role model in their own communities.
"Craig's philosophy of 'be all you can be' and 'aim high' rings loud in the Year of the Young Person when we should rightly be celebrating their capabilities and achievements."
Head of research and the graduate school, Dr Nia White said: "Lynne Boddy has transformed our understanding of the way fungi colonise, interact and function in woody resources under changing climatic conditions.
"Her commitment to good science means she is now widely regarded as a world-leading authority."
Professor Carl Schaschke, of the school of science, engineering and technology said: "Jean Venables is a distinguished civil engineer with a long and illustrious career specialising in water and flood risk management.
"She became the 144th, and first-ever female, president of the Institution of Civil Engineers in 2008, and was responsible for raising public awareness of the impact of climate change as the biggest risk and challenge that we face today, along with the need for carbon reduction."
For a full list of Abertay graduates, get a copy of Thursday's Courier