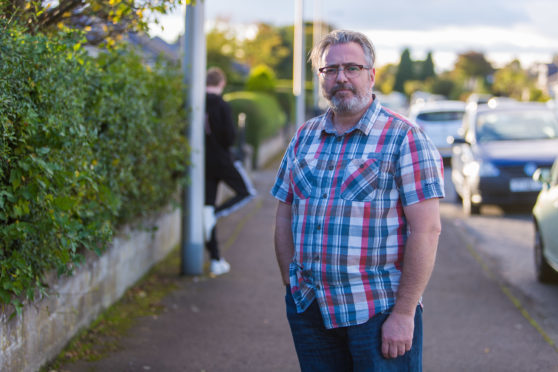 Trade union bosses in Dundee have given their unanimous backing to a city councillor embroiled in an anti-Semitism row, despite growing pressure for him to stand down.
George McIrvine, who represents the Coldside ward, is under investigation by the Scottish Labour Party for sharing a Facebook message which made reference to the Rothschild Group following the UK's decision to take part in a bombing raid on Syria.
The Courier revealed on Wednesday how Mr McIrvine had failed to attend months of council meetings amid claims he had been dropped as branch secretary of Unison Police Staff Scotland.
Dundee Trades Union Council (TUC) have thrown their full weight behind the councillor, with secretary Mike Arnott revealing local delegates had voted unanimously to support him and even sent a private message of solidarity.
Mr Arnott said: "Dundee TUC has recently passed, unanimously, a motion in support of George McIrvine and our organisation has faith that any competent inquiry will find him innocent of the accusation of anti-Semitism.
"George has been a delegate and executive member of Dundee TUC for many years and is known as an anti-racist and anti-fascist, committed to equalities within both the trade union movement and the community at large.
"Even Professor Sue Black wouldn't find an anti-Semitic bone in George's body."
Mr McIrvine, who has lived in the Coldside area for most of his life and worked in policing for more than 30 years, broke his silence last night to thank delegates.
He said: "It's welcome that comrades from the Dundee Trades Council have shown their support for me.
"I have had leave of absence for a long period of time now due to a sensitive family issue and would hope that both press and public respect that at the moment."
Mr McIrvine is reportedly subject to an investigation by Police Scotland's professional standards department.
Unison Scotland refused to say why he is no longer secretary for the branch or confirm reports it is conducting its own investigation into his conduct, stating that it "does not comment on individual members".
Both bodies have refused, along with Scottish Labour, to offer any further clarification, despite concerns from local residents, fellow councillors and union members.
A Scottish Labour spokesman said: "This individual is currently under investigation by the party and it would be inappropriate to comment any further."