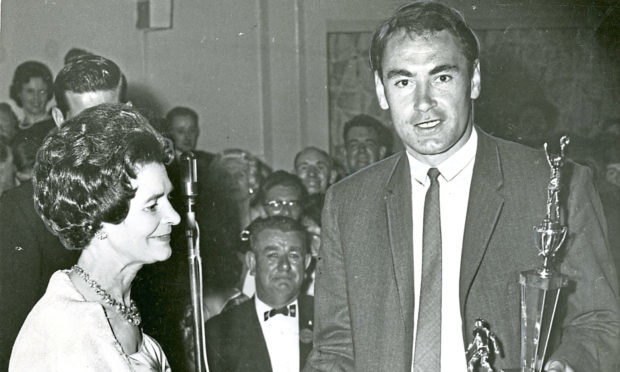 Dundee FC legend Alan Gilzean has died at the age of 79. 'Revered' in his home town, "Gillie" became one his country's greatest footballers but would remain "always the same, nice lad".
Dundee fans who can remember the club's only First Division title still speak in awestruck tones about the abilities of Alan Gilzean.
But some of his biggest fans on the terraces were those who grew up with the striker and saw him develop into one of Scotland's greatest players.
Ron Ross, a former editorial manager of DC Thomson and Co Ltd, played in the same school team in Coupar Angus with Gilzean and said his talent was apparent even at a young age.
After firing Dundee FC to their only league title in 1961/62 and helping the club reach the semi-finals of the European Cup the following season, Gilzean went on to have a glittering career at Tottenham Hotspur where he won the FA Cup, two League cups and the UEFA Cup.
He also won 22 caps for Scotland, scoring 12 times.
Gilzean scored the only goal for Scotland when they beat England 1-0 at Hampden in 1964, a feat for which he was presented with a gold watch by his hometown.
Mr Ross, who now lives in Longforgan, said his one-time team-mate should be regarded as one of Scotland's greatest strikers and that it was "thrilling" to watch Gilzean in action for the Dark Blues.
He said: "It was thrilling because I had been a team-mate with him at school when we were nine, 10 and 11.
"The one thing I would point out is that everyone said he was just a goalscorer but I would argue with everybody about that.
"At school he was a bit smaller and a little bit more rotund – it was his football skills that got him by.
"There were three standout players on that team: Alan Gilzean, Billy Forbes, his cousin, and Hamish Rodger who passed away a couple of weeks ago.
"Alan was a very talented boy. It was obvious all along that football would be his career."
Gilzean played in one of Dundee's most famous victories during the league-winning campaign when the Dark Blues thumped Rangers 5-1 at Ibrox, with Gilzean scoring four second-half goals in the rout.
Unfortunately, inclement weather meant few Dundee supporters saw one of the team's most memorable performances as thick fog meant many supporters decided to forego a trip to Govan in anticipation of the game being called off.
Those who did make the trip through, however, witnessed one of Dundee's greatest ever domestic performances.
Mr Ross said: "It was very exciting to see him. I saw him score four goals at Ibrox. I was one of the few Dundee fans there, along with Billy Forbes, because most people thought he game would be called off for fog but we were travelling through on the train.
"It was tremendous seeing him play for Dundee."
Another former school friend, Raymond Hepburn, said he feels Gilzean, who helped Dundee reach the dizzy heights of the semi-final of the European Cup during the 1962-63 season, was a very "underrated" player who "made his mark" at Coupar Angus Juniors.
"Coupar Angus is proud of Alan – his death is very sad," he said.
"I knew Alan since our school days and it was great that he made it up to Coupar Angus last September. There are a lot of people who come from the town who made it outside Coupar Angus but none who received the public acknowledgement that he did."
He continued: "He was obviously part of the Dundee side that won the league championship but for me he was an under-rated player. He won 22 Scotland caps during the era of Denis Law, who was one of the best ever players, so that shows how good he was."
And although commonly referred to as "Gillie," Mr Hepburn reveals Gilzean had another nickname that was handed out due to his prowess as a superb passer of the ball.
"When Alan played for Coupar Angus Juniors his cousin, Bill Forbes, also played and he was known as 'Peenie'," he added.
"This was because he could put a pass on the equivalent of the head of a pin. Bill would play inside right and Alan inside left and what I remember is Alan putting lovely 45-yard passes in behind the full-back for his cousin and then going into the box to head the resulting cross, so he was more of a provider in those days.
"He became well-known at Dundee for heading the ball but that was something manager Bob Shankly worked on. He had Gordon Smith on the wing who crossed the ball for Alan to score – Shankly wanted Alan in the penalty box.
"Alan is someone who will always be revered in Coupar Angus."
And Alan Bannerman, 54, who runs the Red House Hotel in Coupar Angus, also described the affection the Perthshire town holds for Gilzean.
"Gillie was so well known here," he said.
"My dad, Norman, knew him from the Scouts and remembers when he played for Coupar Angus Juniors. He would pop in here when he was back in Coupar Angus and he gave us a blazer he wore, football tops, a book and a bottle of whisky – all located in the bar at the hotel.
"It means football fans who stop here on buses can come in for a beer and look over the memorabilia."
He continued: "It's a shame he passed away but he was a strong character and wouldn't have wanted to end up in a care home when he became ill."
'An exceptional striker'
Bob Seith, one of the four surviving members of Dundee's league winning side said Gilzean remained humble, despite his on-field successes.
He said: "Alan was an exceptional striker for Dundee and Tottenham, but that never changed him. He was always the same nice lad.
"I think that was one of the strengths of the Dundee team that won the championship – we were all good friends. There were no cliques in the dressing-room and none of us let our success go to our heads.
"I remember when Alan was at Spurs and I was manager at Hearts, we played them in a friendly. He was a big star, but he was exactly the same as he was when we were at Dens."
Mr Seith added: "Alan was exceptional and a great header of the ball. His timing in the air was the thing and when he jumped he seemed to hang in the air. We knew that if we could get the ball to his head he would score goals.
"At Dundee he had a fine partnership with Alan Cousin and he would have been the first to say Alan Cousin's donkey work was responsible for him scoring as many goals as he did.
"With Alan, though, it was not just about his heading, he had two very good feet as well. In fact, I was never sure whether he was left or right-footed.
"He had the knack of being in the right place at the right time. He always seems to know where to be, that's why he scored so many goals."
'Proud, honoured and privileged to have known him'
Former Dundee director and long-time friend, Dave Forbes, also paid tribute.
He said: "I knew he wasn't well and I'm just glad it all seems to have been quite quick and he didn't suffer for too long.
"I remember when we were organising Dundee's centenary celebrations he was a big help.
"I am proud, honoured and privileged to have known him as a good friend."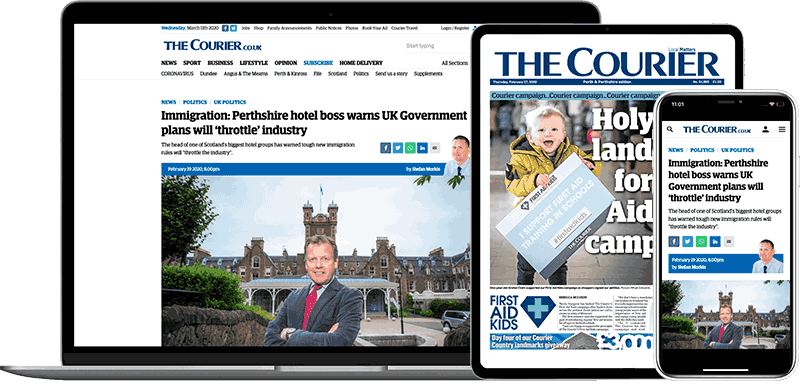 Help support quality local journalism … become a digital subscriber to The Courier
For as little as £5.99 a month you can access all of our content, including Premium articles.
Subscribe