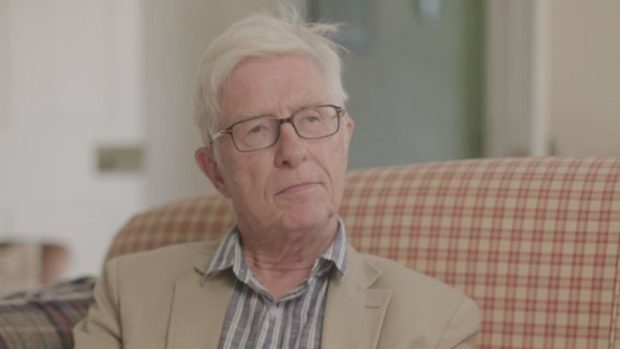 "Horrifying" allegations that mental health patients were cruelly mistreated at a Dundee care facility should lead to it being shut down, it has been claimed.
Relatives of former patients at NHS Tayside's Carseview Centre have spoken of their shock at revelations aired in a BBC Scotland documentary on Monday night which suggested patients were regularly bullied and violently subjected to face-down restraints, and that illegal drugs could be easily obtained in the unit.
Now there have been demands from some quarters calling for the unit to be closed completely in the wake of claims made in the programme.
Professor Peter Tyrer, who co-wrote guidelines on how to handle mental health patients, told the BBC he was concerned the culture at Carseview had become so toxic it should be closed.
"I know that there are various changes going on there but I think once you get a culture like that which has been there for a long time, it's very difficult to move it," he said.
"What really concerns me is that if this unit persisted, it would represent a continuing scandal in mental health care."
Professor Tyrer added that the evidence suggested a hospital "out of control", while another expert, Professor Joy Duxbury, of Manchester Metropolitan University, labelled Carseview "an institution in crisis".
The programme highlighted claims from former patient Adele Douglas, from Forfar, who said she had been forcibly held down for more than 45 minutes, far in excess of guidelines which state the practice should not be used for longer than 10 minutes.
It also told the story of Christopher Dunsmuir, who said he feared he was going to be raped after being held down by six staff before being injected with a tranquilizer.
His mum Lorraine said: "He said he had never felt so horrible or lost in his life."
There were also allegations that such incidents of restraint had not been properly recorded.
With the programme now broadcast, calls for the allegations to be investigated thoroughly as part of the independent inquiry into mental health services within NHS Tayside – commissioned by new health board chair John Brown – have been stepped up.
"These allegations are horrifying," said Labour shadow health secretary Anas Sarwar.
"This is yet another example of the sad reality of mental health services, and the treatment of patients, not being equivalent with physical health.
"Labour will continue to press the government to ensure parity of esteem."
Conservative Angus MP Kirstene Hair called for a "robust response" from NHS Tayside on what she described as the "outrageous" behaviour highlighted in the programme, and said anything less would be a "betrayal of patients".
"Some of the people interviewed on the documentary were referred to Carseview from Angus," she noted.
"If there was already a cultural problem there, a large increase in workload from transferring dozens more Angus patients will not have improved conditions – but added to the mounting pressures.
"This documentary is a warning to NHS Tayside and Nicola Sturgeon's government about the human cost of eroding local services."
Liberal Democrat health spokesman Alex Cole-Hamilton MSP also called on ministers to look at the "culture of care" at Carseview.
"Scotland's mental health services as a whole are under extreme funding and staffing pressures but this can't be allowed to fall through the cracks," he said.
"People being treated for mental ill health need support and empathy. No one should feel unsafe in their time of need."
A total of 24 former patients told the BBC about their experience in the NHS Tayside unit.
Sixteen said illegal drugs could be obtained in the centre and 11 said they have been unreasonably restrained with their faces on the floor.
A further seven said they had witnessed other patients being unreasonably restrained on the ground.
NHS Tayside chair Mr Brown said has responded to the BBC on behalf of the board.
"As a board, we are very concerned by the nature of these allegations relating to the Carseview Centre," he said in a statement.
"We would very much like the opportunity to investigate all of these claims in full and therefore we would ask that the patient testimonies featured in the BBC programme are provided to us for that purpose. As you would expect, we cannot discuss individual cases in the public domain due to reasons of patient confidentiality.
"As the new chairman of NHS Tayside, I have been listening very carefully to families and patients about their experiences of mental health services and, in response, I have commissioned an independent inquiry into services in Tayside.
"To ensure a truly independent approach, the ALLIANCE – a national intermediary organisation – is already leading the involvement of patients, families, the public, the third sector and mental health charities in the inquiry. We have been clear from the beginning that we wanted to provide a public platform for the concerns of families and the public and I give everyone my assurance that all claims and allegations received will be included in the transparent body of evidence gathered by the inquiry and fully investigated.
"If anyone would prefer to come to us directly with concerns, separate from the independent inquiry, then please contact the department of Chief Executive of NHS Tayside, Malcolm Wright.
"We take any concerns raised with us very seriously and we want to be able to investigate people's experiences in detail and take any appropriate action. That is why I would encourage patients to come forward and share their own stories with us. We will listen and we will act."