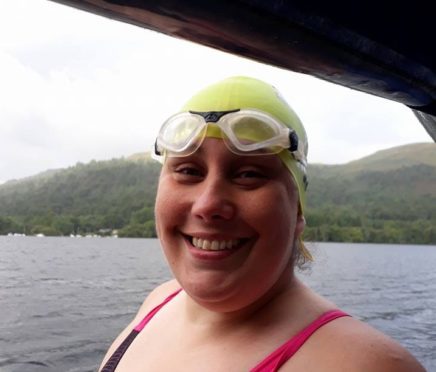 A Tayside woman has told how she battled against freezing temperatures, jellyfish, and crippling fatigue to become the first person to swim one of the UK's toughest channels.
Colleen Blair, from Birkhill in Angus, swam the gruelling North Minch crossing, which runs 25 miles from Orinsay on the Isle of Lewis to Rubha Reidh on the Scottish mainland, on Sunday.
Wearing just a normal swimming costume — as opposed to a wet suit — she completed the crossing in 18 hours and 46 minutes in temperatures as low as 9C.
The 40-year-old's swimming partner, Colin Macleod, had to be rescued and airlifted to hospital after he was separated from his support boat due to fast-changing conditions.
Another swimmer taking part, Norman Todd, abandoned his attempt after losing sight of his swimming partner.
The fact Colleen had no wet suit meant she was exposed to the notorious Lion's Mane jellyfish and endured a number of stings.
Colleen, who now lives in Aberfeldy, said: "It was the hardest thing I've ever done in my life.
"The sea was filled with jellyfish from start to finish.
"It has taken time to sink in that I managed to do it. I'm just glad I finished it.
"I never wear a wet suit as the rules of the British Long Distance Swimming Association (BLDSA) don't allow it.
"I want to thank the team for all their hard work. I would not have made it without them."
Colleen, regarded as one of Scotland's top long distance swimmers, completed the challenge for charity and previously swam the English Channel at the age of 20.
She was also the first person to swim the Pentland Firth, from Orkney to the mainland.
As if her task was not intense enough, Mr Macleod's rescue added greater drama.
The coastguard were alerted to his disappearance at about midnight.
Caledonian MacBrayne ferry MV Loch Seaforth raced to the scene north of Gairloch with Mr Macleod plucked from the water by a rescue craft from the boat.
Colleen added: "I wasn't aware of everything that was happening. It all occurred after I finished.
"I was just concentrating on getting warm afterwards.
"It's hard to say whether it would have affected me but if I'd still been in the water I might have had to be rescued too."
Colleen managed to raise £650 so far for the Scottish Charity Air Ambulance. To donate, visit https://www.justgiving.com/fundraising/colleen-blair