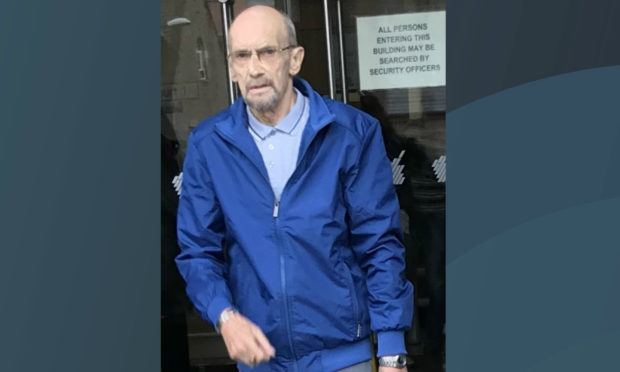 A brute who battered a disabled seven-year-old girl because she couldn't pronounce the word "penguin" has avoided a jail term.
David Wilson dodged jail after admitting a string of assaults committed in the 1970s and 1980s on two children.
In one horror attack he punched a girl born with spina bifida, then aged seven, in the face – knocking out one of her teeth – after drilling her on the pronunciation of "penguin".
On another occasion he whipped the girl with a belt buckle because she had scuffed one of her shoes.
And in a third attack she was knocked unconscious when Wilson battered her with a spoon.
The offences took place at addresses in the Fintry area of Dundee.
A sheriff told Wilson that even by the standards of the time his assaults constituted serious criminal conduct – but spared him a prison sentence because of the passage of time and his lack of other criminal convictions.
Fiscal depute Stewart Duncan told Dundee Sheriff Court: "The first complainer was born with spina bifida which meant she spent a lot of time in hospital until she was around nine years old.
"When she was about seven years old she was alone with the accused. She could not say the word 'penguin' properly.
"The accused made her say the word over and over. She could not pronounce it properly and the accused punched her in the mouth.
"Her mouth started to bleed and one of her front teeth fell out. She did not tell her mother about the incident. On another occasion she had scuffed her shoes.
"The accused was angry and standing in a doorway with his belt.
"He swung the belt towards her and the buckle connected with her cheek leaving a red welt.
"On another occasion she recalls the accused being angry about something, though she cannot say what it was.
"The accused struck her really hard with a spoon. She lost consciousness due to the strike.
"The second complainer recalls often being belted.
"On one occasion he was playing with a friend and his friend broke his new snooker cue by accident.
"The accused became angry, grabbed the broken cue and poked him hard in the stomach, leaving him with a bruise on his stomach from the strike."
Wilson, 71, pleaded guilty on indictment to assaulting a girl between the ages of seven and 12 between October 1975 and October 1980 to her severe injury.
He further admited assaulting a boy aged between four and 14 on various occasions between January 1975 and December 1984 to his injury.
Defence solicitor Brian Allison said: "The court obviously has to take a serious view of these matters, not withstanding the passage of time since these were committed."
Sheriff Alastair Brown imposed a restriction of liberty order requiring him to remain at his home address from 7pm til 7am every day on an electronic tag.
He said: "It is undoubtedly the case that during the mid to late 1970s the attitude to the physical chastisement of children was not the same as it is today.
"But on any view what you were doing was lashing out in anger.
"What you were doing to these children was in no way excusable much less acceptable.
"I am not applying 21st century attitudes to 20th century conduct here.
"Today, for a current offence, I would not hesitate to sentence to prison a person who lashed out because a disabled child could not pronounce the word penguin.
"However, it was 40 years ago and there was no lasting injury.
"With some hesitation I've concluded that a prison sentence now would be too much."