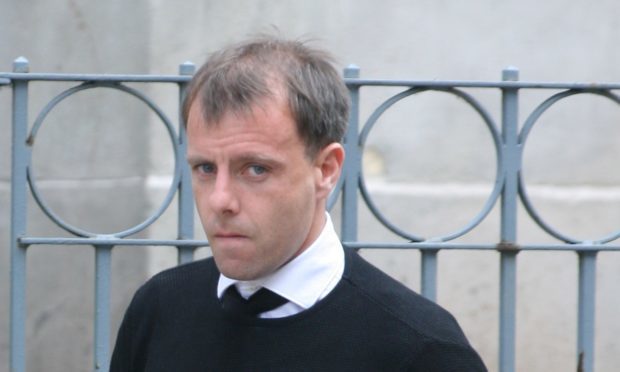 Dundee FC star footballer Paul McGowan has received the backing of the club after he avoided a jail term for spitting on a nightclub bouncer — his fifth conviction for assault.
The midfielder had admitted assaulting Underground doorman Andrew MacLaughlan on May 14 following the club's Player of the Year celebrations at a nearby hotel.
Dundee Sheriff Court heard on Monday the 30-year-old spat on the steward while being ejected after threatening other clubbers at the South Tay Street nightspot.
Despite multiple past convictions, including threatening to kill two police officers, he as told by Sheriff John Rafferty it was only by a "narrow margin" he was not being sent to prison.
Instead he was ordered to carry out 200 hours unpaid work and pay his victim £200. He will also be restricted to his home for two months between the hours of 7pm and 7am on Fridays, Saturdays, and Sundays.
Dundee FC managing director John Nelms was in court to show the star man his support — however McGowan arrived half an hour late for his appearance.
His solicitor explained he had mistakenly believed he was to appear at 10am rather than 9.30am.
Fiscal depute Laura Bruce told the court the assault happened at around 1.45am while Mr MacLaughlan and another door steward were escorting McGowan from the club.
She said: "He was seen on CCTV as clearly unhappy and he kept approaching the door.
"He then spat on Mr MacLaughlan as he walked back down the stairs.
"There is nothing to suggest that it landed on his skin and there is no information about the intended target."
McGowan's solicitor Elaine Rae said her client had not intended to spit on Mr MacLaughlin and was reacting to being punched by another person.
She said: "On exiting the nightclub, he was punched on the back of the head by an unknown male — this caused a commotion.
"It was during this commotion that McGowan aimed this assault.
"He fully appreciates and understands that this is no excuse and that the doorman was working, trying to do his job.
"He fully accepts his actions and makes no attempt to justify them."
She added that McGowan, of Kelvin Drive, Airdrie, was "remorseful and embarrassed" by his behaviour which had been fuelled by alcohol.
Sheriff Rafferty said he had been persuaded by the defence that a custodial sentence was not appropriate.
He said: "Unlike a number of other people who appear in this court, you are someone who has a particular skill and advantage in life.
"Notwithstanding that, you have been before the criminal courts on a number of occasions since 2010.
"Several of these are for crimes of violence and you have previously had the advantage of community based alternatives.
"It's by a narrow margin that you avoided custody. If you breach this order you are likely to go to jail."
McGowan's restriction of liberty order is only applicable at weekends, meaning he can continue coaching youngsters from the club's youth set-up on Tuesday evenings.
The conditions will also allow him to travel to away matches midweek.
It comes three years after the midfielder admitted threatening to kill two police officers after "charging toward them" outside a house in Airdrie.
He avoided a jail term that time but was ordered to wear an electronic tag for 16 weeks, restricting him to his home between the hours of  7pm and 7am.
The 2015 case was his third conviction for assaulting a police officer.
In 2013 he was sentenced to 130 hours of unpaid work and handed a one-year supervision order for kicking two officers.
He was also convicted of assault for a 2013 attack and for assault on a policeman in 2010, both while playing for St Mirren.
Speaking in 2016, the North Lanarkshire-born star spoke of his "shame" over his past and said he wanted to repay Dundee FC for the "faith they've shown in me".
He also said he acknowledged he had "no more chances".
In a statement, Dundee FC said it was supporting the former Celtic youth team player.
A spokesperson said: "The club does not condone the behaviour which has led to this and we respect the decision made by the court.
"We will support Paul through this process.
"The club will be making no further comment on the matter."
McGowan appeared in court just two days after featuring in Dundee's first competitive game of the season — a 4-0 away victory over Stirling Albion in the Scottish League Cup.