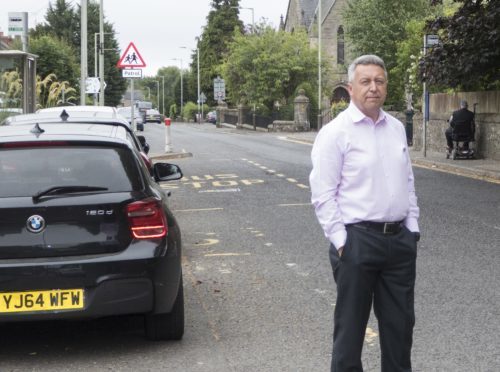 A "rat run" through Invergowrie is expected to become even worse when new traffic lights are installed on the western edge of Dundee.
Commuters are already speeding through the village in a bid to avoid traffic at the Swallow roundabout on the A90.
New lights will be put in as part of an overhaul of the roundabout, needed to improve access to hundreds of new homes in the city.
But now "appalled" senior councillor Angus Forbes is calling for traffic calming measures in Invergowrie Main Street, as more and more people cut through the village when heading to Perth from Dundee.
The Carse of Gowrie Conservative, who is convener of environment and infrastructure for Perth and Kinross Council, said: "I have been approached by a number of residents who are worried at the volume of traffic through Main Street as well as the quality of driving.
"Just last week I stood on Main Street during rush hour and was appalled at what some drivers feel is acceptable. I saw one driver overtake a bus and a cyclist in one go which forced an oncoming driver to almost mount the pavement."
The council recently allocated money for vehicle activated speed signs but Mr Forbes is calling on local authority transport officers to work with residents to find more solutions.
He said: "A small group of residents have been campaigning for more than two years to get a resolution to the problem.
"They have really fantastic community consultation feedback, which should form the basis of any future solution to the issue.
"There are often different opinions of what the problem is and therefore what the solution should be but we need to work with council traffic experts to establish that before we proceed."
Nobody from Perth and Kinross Council was available for comment.
The traffic lights were approved by Dundee City Council last month, as part of work related to the new 650-home Western Gateway development nearby.
Bosses at neighbouring Perth and Kinross Council raised concerns that the changes would lead to an increase in traffic cutting through Invergowrie, with planning officer Persephone Beer, writing to Dundee Council ahead of the decision.
Ms Beer said there had been 24 crashes on Invergowrie Main Street since 1999, which was more than similar villages in the area, and called for traffic surveys to be carried out if the work goes ahead.