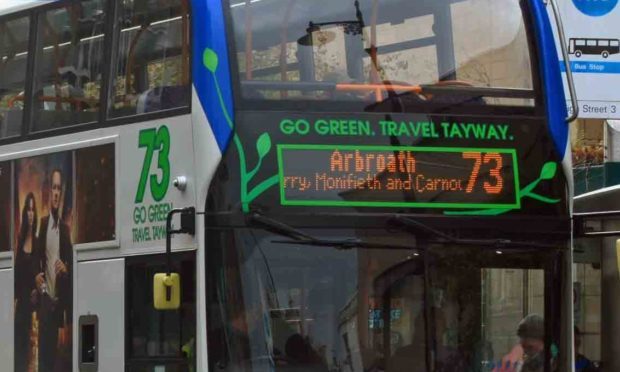 A bus driver was punched in the head after he tried to break-up a scuffle between yobs on a journey to Dundee.
The incident happened on the Stagecoach 73 service, which runs between Arbroath and Ninewells Hospital.
The fight broke out on the bus at Arbroath Bus Station and when the driver attempted to intervene, he was struck on the head.
Stagecoach said the man was left with "minor injuries" as a result.
A passenger contacted the police but those involved in the fight fled.
A spokeswoman for Stagecoach East Scotland said: "Unfortunately our driver was subjected to mindless abuse on Friday evening at Arbroath Bus Station as he attempted to break up a fight, at which point the youths involved fled the vehicle and one of our passengers called the police.
"We are thankful our driver suffered only minor injuries and was able to continue the journey on service 73 with a slight delay thereafter."
One of the passengers on the bus described the scene as "pandemonium".
He said: "It seemed there were about 15 of these youths who had just got on the bus who were getting quite out of order.
"There was a fight and the driver came out and it looked like he got punched on the nose.
"A lot of people were quite frightened about what was happening because there isn't anywhere that you can go when you're on a bus.
"There were two police cars that turned up but the big group just ran off."
Arbroath East and Lunan Independent councillor Lois Speed said she was "disappointed" to hear of the incident.
She said: "I'm aware there has been bother at the station from time to time in recent months."