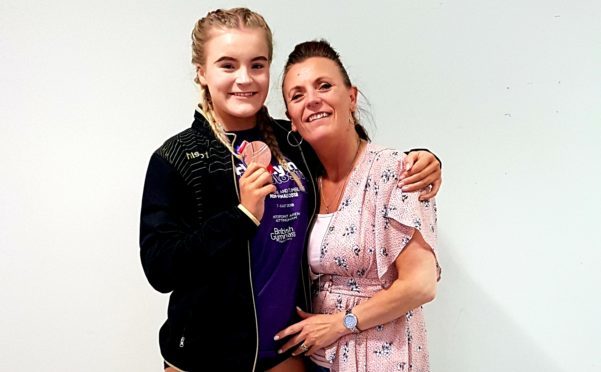 A young Dundee gymnast overcame a debilitating illness to finish in the top three of a national competition.
Tegan Gaffney, 14, took third place in the British  National Development Plan in the performance tumbling discipline.
Amazingly, the teenager — a pupil at Craigie High School — achieved the "fantastic" result shortly after a battle with Bell's Palsy, a condition that causes temporary paralysis in the muscles of the face.
Tegan, who is part of Dundee Gymnastics Club 2K (DGC2K), now wants to inspire others to pursue their dreams despite setbacks.
Her mum, Cordelia Gaffney, said: "This year Tegan represented Team Scotland in the British NDP Tumbling Championships in Birmingham, competing against England, Ireland and Wales. For the first time Scotland were triumphant and won.
"From the competition, the best eight gymnasts from all levels and ages were invited to compete in the British NDP individual final in Nottingham.
"Tegan's hard work and commitment to the sport gained her third place, a dream that she thought would never happen due to her having an illness that saw her struggle for around six months last year.
"She contracted Bell's Palsy, which is a  face paralysis. She was unable to tumble and couldn't compete, which was devastating for her, but she still kept working at what she could and by Christmas she started to get her mojo back.
"The recent competition was a fantastic result for her, she is over the moon and is now even more motivated to keep going and go up a level."
Tegan has been involved in gymnastics for just three years, starting when she was 11.
The NDP – National Development Plan — is a system for gymnasts to develop from beginners to international athletes.
Earlier this year, Tegan's fellow club member Sofia Ramzan was selected to be part of the Commonwealth Games team for Gold Coast 2018.