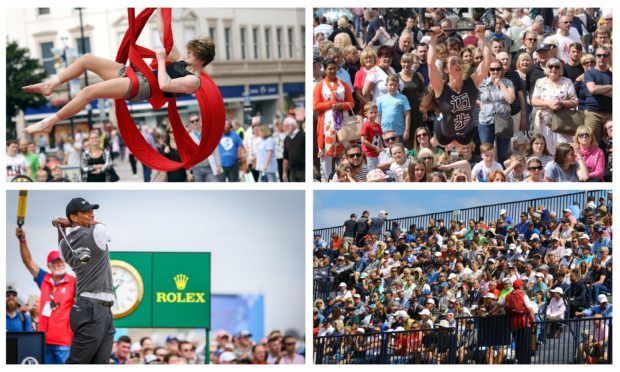 Dundee businesses have seen a boom in trade over the weekend as world-famous golfers, visitors and international media descended on Courier Country for the Open.
The 147th Open, held in Carnoustie, recorded its highest ever visitor numbers, surpassing the previous record of  157,000, with tourists and locals alike frequenting pubs, bars and restaurants in the area.
In addition, Dundee held its inaugural Summer Streets Festival in the city centre on Saturday and Sunday, timed to coincide with the golfing event.
The street festival included an aerial show, food, drink, singing, dancing, crazy golf based on Dundee landmarks and various children's activities.
Young and old alike joined in the celebrations, with the city centre remaining busy throughout the day and late into the evening.
Heather Sharp, owner of Coffee and Co on Reform Street, where the crazy-golf was held, said: "The Open has definitely been good for business.
Francesco Molinari tames the Tiger and the Beast to clinch his Open title
"We've had people stop by in here on their way to the golf, including Andrew Ridgeley from Wham!
"It would have been even better if the whole street had been pedestrianised for the street party, but been good all the same – we've had lots of American tourists in particular."
Kris Brown, operations manager at Hilton Doubletree, said that most of the hotel's clientele has consisted of TV crews.
He explained: "The hotel has been at full occupancy, with the busiest times being early in the morning and late at night due to the schedule of the TV crews.
"It's definitely been good for business for us and for the local area in general."
City centre pub Tickety Boo's also saw an increase in clientele, although it is not unusual for them to be busy in summer, according to assistant manager Charlie De Franco.
He said: "Over the past five years or so we've definitely seen an increase in tourists.
"There has been a slight increase now with the Open, but as we're often full to capacity we couldn't have become much busier due to the space we have.
"It is definitely good to see events like this bringing people in."