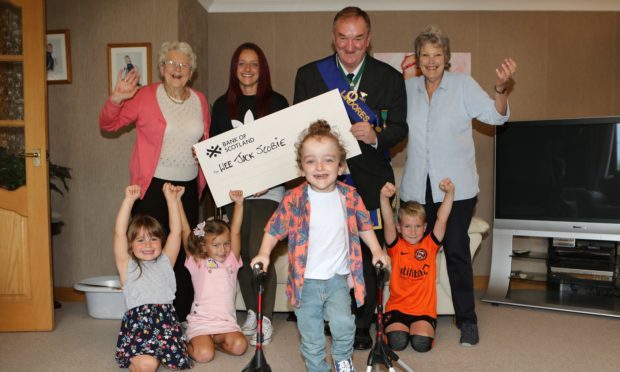 A Newburgh youngster has been given a precious birthday gift — a cheque for £10,000 to continue vital treatment that allowed him to learn to walk for the first time.
Jack Scobie, who turned five on Monday, was previously confined to a wheelchair as a result of cerebral palsy but is now "very proud" to be walking upright with crutches following Advanced Biomechanical Rehabilitation (ABR) therapy.
Charity champion Jim Aitken, 60, presented Jack and his family with a cheque to help continue the at-home treatment, which aims to strengthen the core through a process similar to deep-tissue massage. The therapy is not currently available through the NHS.
Mr Aitken took on an epic bike and bungee challenge to help raise the cash, which saw him cycle 45 miles from his home in Kintillo, near Perth, to Killiecrankie and then do the Highland Fling bungee jump above the River Garry.
He said: "I've never done a bungee before and I was pretty nervous but I had friends cheering me on so I knew I just had to get on with it.
"Wee Jack was there cheering for me as well and that was really amazing. There was a tear in my eye.
"It's just incredible how many people have sponsored me and how everyone just really rallied round for this."
Mr Aitken, affectionately known as the "Fat Lad at the Back fae Fife", took to cycling six years ago and has been fundraising for charity ever since.
In September, he raised £8,000 for Maggie's Fife in a coast-to-coast challenge that saw him cycle 135 miles from Oban to Carnoustie in 24 hours.
He had previously collected £6,558 by cycling from Carlisle to Edinburgh through the night in aid of charity Prostate Scotland.
The former Howe of Fife rugby player has now raised more than £50,000 for good causes over the years.
Jack's grandmother Anne, 61, said the family had been "absolutely overwhelmed" by Mr Aitken's fundraising efforts and described him as "a very brave man".
She added: "I went to school with Jim. He's a Newburgh lad and we knew his family growing up so it really means a lot.
"Everybody in Newburgh knows wee Jack and the tough start he's had.
"The community has really stepped up to the mark for us."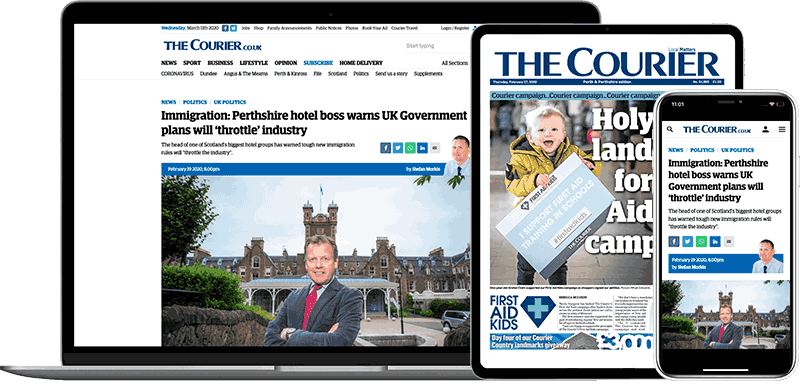 Help support quality local journalism … become a digital subscriber to The Courier
For as little as £5.99 a month you can access all of our content, including Premium articles.
Subscribe