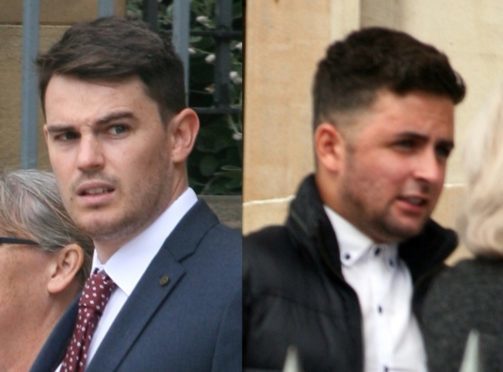 A man accused of ending a footballer's career with a single punch has walked free from court.
Robert Chambers, 24, had stood trial accused of assaulting John Black, a former Dundee FC player.
But he was told he was free to go after a jury found the charge of assault to severe injury not proven by majority verdict.
Chambers knocked Mr Black unconscious in October last year following an incident on Old Hawkhill.
Mr Black was in a coma for 10 days with serious head injuries and told the court his hopes of a career in football had been ruined.
He declined to comment on the case after the verdict was read – but his mother, June, blasted Chambers and the jury for finding the charge not proven.
June, who lost soldier son Aaron at the age of 22 in 2011 when he took his own life after struggling to cope with the horrors of the Afghan war, said: "While that group were off to a party, while Chambers was off looking for something to eat, (John) was being blue lighted to Ninewells Hospital.
"The neurosurgeon told me there were only three outcomes for John – he'd died, he'd wake up with severe brain damage or he'd wake up normal.
"Chambers was telling his witnesses to say they didn't remember anything, to say it was all a blur because they were too drunk.
"Not one witness said John pushed him except for Robert Chambers.
"He's a big guy, he's older than John and he's saying he was scared of him? He could have walked away.
"How can that jury say it's not proven? I don't get it.
"They have discredited the witnesses statements – they have disregarded all of that.
"I could cry for my son just now.
"I couldn't handle another trauma – if I'd lost John as well I wouldn't be here now."
Chambers, Chambers, of Craigmount Road, Dundee, had submitted a special defence of self defence, claiming he felt threatened enough by Mr Black to excuse his actions.
The unemployed welder threw a single punch, causing Mr Black to fall to the ground and crack his skull.
Mr Black told the court his dreams of becoming a professional footballer had been destroyed following the incident, with doctors telling him even heading a ball could now prove to be fatal.
Chambers admitted to police in an interview hours after the incident he had punched Mr Black as a "reaction".
After the verdict, Mr Black's family expressed shock at the jury's decision.