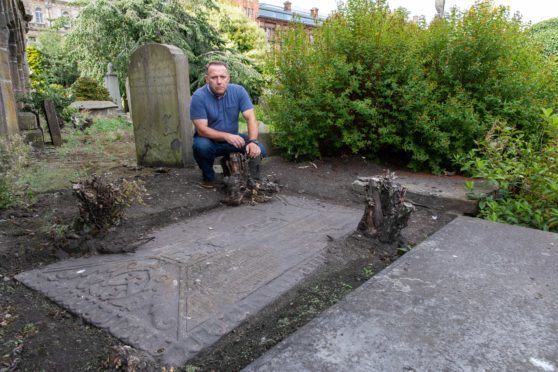 A 400-year-old grave in the Howff has been vandalised by a suspected amateur archaeologist.
The headstone, which dates from 1627, was found to have been dug up sometime in the past few weeks, leaving it with dozens of scratches all over the surface.
The cemetery, a popular site with locals and tourists, contains some of the most important collections of tombstones in the whole of Scotland, with a recent discovery thought to date as far back as the 1300s.
Specialist planning permission is needed before any digging can be carried out in the A-listed graveyard with only trained excavators allowed to do so.
It is not known exactly when the vandalism took place, with Howff Conservation Group chair Simon Goulding having only recently stumbled upon the markings.
Mr Goulding said digging up the protected land throws up a number of serious issues — including the possibility of police involvement.
He said: "We can't have people coming in conducting their own digs. It looks like someone has used sharp metal tools to uncover it as most of it was covered with soil and moss.
"It's a 400-year-old protected monument and now it has been damaged.
"It's irresponsible. I don't think whoever did it intended to vandalise it but it's happened all the same.
He added: "This is one of two incidents I have come across recently.
"I also confronted a worker — for a company I won't name — who was digging at the base of a window in the grounds.
"I informed him that he was digging just yards away from the bones of potentially thousands of cholera victims.
"The company were extremely apologetic afterwards but if land is dug up and bones are found, it becomes serious as then the police must be notified so they can investigate."
It comes not long after a digital mapping exercise of the ancient graveyard revealed a mystery tombstone estimated to be around 700 years old.
Once confirmed, it would make it the oldest monument in the cemetery by some distance.
Mr Goulding said anyone digging in the Howff must be trained and authorised to do so, otherwise the popular site could be irreparably damaged.
He said: "When a marker is under soil it is protected but as soon as it's uncovered it is at the mercy of the elements.
"When a dig is carried out there is a careful process that must be followed.
"We may need warning signs about this as we need to get the message out that the land is protected.
"We do have signs in the cemetery but not ones explicitly warning against digging.
"We've never encountered this problem before but to have two incidents twice recently is a bit of a shock."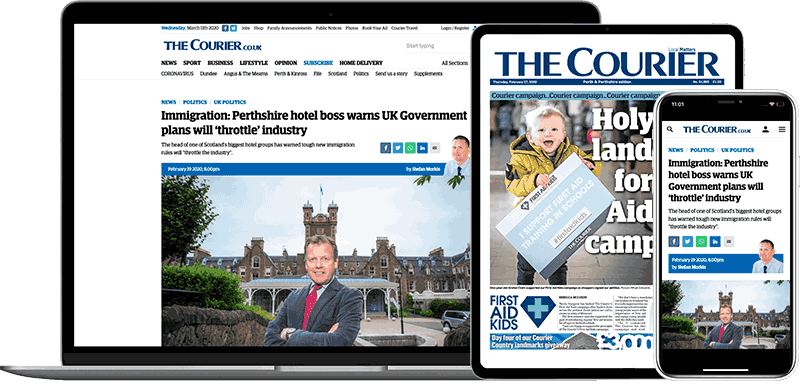 Help support quality local journalism … become a digital subscriber to The Courier
For as little as £5.99 a month you can access all of our content, including Premium articles.
Subscribe