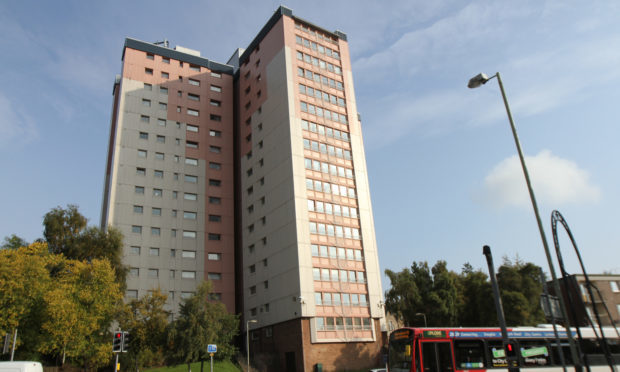 High-rise tower blocks in Tayside and Fife are clad with materials that fail to meet standards recommended by the Scottish Government's fire safety experts.
The Courier can reveal that Dundee's Dudhope multi has been fitted with a high pressure laminate (HPL) cladding.
The material is combustible and has been linked to the 2009 Lakanal House fire in south-east London, which killed six people.
Meanwhile, in Fife, officials downgraded the authority's safety statement after The Courier pointed out its original wording oversold the quality of cladding used on eight of the Kingdom's tower blocks.
There is no suggestion the tower blocks in Fife or Dundee are unsafe but other Scottish authorities with high-rises, including Glasgow Housing Association, use the top European standard A1 rated cladding, which is non-combustible.
Materials used in Fife and at the Dudhope block meet the British equivalent of the European safety class B rating.
Niall Rowan, chief executive officer for the Association for Specialist Fire Protection, said Dundee's high pressure laminate "will never meet A2 – limited combustibility in the old money – because there is too much organic material."
The coroner's report into the death of Catherine Hickman in the Lakanal House fire ruled the HPL panels "had a significant impact on the fire resistance of the external wall of Lakanal House."
Dundee City Council has written to Dudhope residents telling them an independent test verified the insulation is non-combustible mineral wool.
It addresses the cladding by saying it "meets all the required safety standards" because the work was carried out in 1989.
A Dundee City Council spokesperson said: "Cladding at multi-storey blocks meets the highest safety standards."
Fife Council had claimed its materials are "non-combustible" and backed that up by saying cladding meets the Class 0 rating.
But after we pointed out that Class 0 does not mean materials will not burn if exposed to fire, the country's third largest authority changed the wording on its website to "fire retardant".
The Scottish Government-appointed Building and Fire Safety working group, set up in the wake of the Grenfell fire disaster in London, said: "Any building with a storey at over 11m above the ground should require A2 or better."
Independent fire expert Stephen Mackenzie said: "They haven't been clear what's installed and fire safety concerns will remain until Fife Council clarifies its position."
Fife Council service manager Louise Sutherland said: "Our position on our cladding has not changed. We are confident our fire safety procedures and materials used are safe."
The tower blocks
Fife Council owns 12 multi-storey blocks, eight of which have been clad.
They are: Broomhead Drive, Dunfermline: three 12 storey blocks housing 213 flats. Construction approved 1960, with cladding completed by CMS across 2014 and 2015.
Ravenscraig, Kirkcaldy: three 14 storey blocks housing 258 flats. Two blocks were built in 1964, the third in 1968, with cladding completed by Scottish Gas across 2013 and 14.
Swan and Memorial Courts, Methil – two 14 storey blocks housing 148 flats. Swan Court construction commenced 1968, with cladding completed by ISG in 2012. Memorial Court construction commenced in 1968, with cladding completed by ISG 2012.
Fife Council
Fife Council's website states: "The council owns 12 multi-storey blocks in Fife. The insulation materials used as part of our cladding systems are either a stone wool insulation board, or a phenolic board.
"Our cladding systems all achieve a Class 0 rating or a BRE135 classification. This means that the cladding systems are fire retardant and do not promote flame spread."
The authority's service manager Louise Sutherland said: "There is a robust management regime in place which ensures that regular fire risk assessments are carried out and that all firefighting equipment is regularly maintained.
"In the multi-storey flats, we carry out at least annual fire inspections and safety checks, working with Fire Scotland, and in accordance with fire safety regulations. We are currently working through a programme of annual updates.
"Our position on our cladding has not changed. We are confident our fire safety procedures and materials used are safe.
"To reassure tenants and residents further, we set up a multi service review group last year, which reviewed all aspects of fire safety in our high rise blocks and is working for example on upgrading doors from 30 minutes to 60 minutes protection, installing sprinkler systems in high risk communal areas."
Dundee City Council letter to Dudhope Court residents, sent on July 4
Dear Sir/Madam,
Tenant safety is our first priority and as you know we wrote to you again on 28 June 2017 updating you on the cladding systems on our multi-storeys in Dundee.
The systems meet the required safety standards and none of our multis have the same cladding systems or materials used in Grenfell Tower.
Although the cladding system on Dudhope meets all the required safety standards because the refurbishment work was done many years ago, as an additional measure to further re-assure all tenants of the safety of the block, on Tuesday 27 June 2017 a cladding panel was removed and a sample of the insulation material was taken to be sent for analysis.
The sample of insulation was analysed and confirmed to be mineral wool. This has been independently verified as noncombustible.
We held the first of the drop-in sessions at Dudhope Court on Thursday, 29 June 2017 and thank those who attended to discuss their issues.
We would remind you that free fire safety visits by the Scottish Fire and Rescue Service are available on request by telephoning 0800 0731 999 or by texting 'FIRE' to 80800.
We will continue to keep you informed of any further developments.
Yours faithfully
Elaine Zwirlein, Executive Director of Neighbourhood Services
Perth and Angus
Three of Perth and Kinross Council's high-rise buildings – at Pomarium Street and Potterhill, Perth – had mineral wool insulation applied almost 30 years ago, which industry expert say will be safe.
The council said it is waiting for reports from Fire Risk Assessment visits carried out on all of its towers earlier this month.
Angus Council does not have any high-rise buildings.
A PKC spokesman said: "Perth and Kinross Council have six mixed tenure, high rise multi-storey blocks located in central Perth.  Due to their age all are covered by the UK fire safety regulatory framework.
"Fire Risk Assessments were carried out at all six blocks June 2017 by our internal Fire Safety & Prevention Adviser and no specific fire safety issues were identified at this time. The external cladding on all six is not deemed to be a special fire risk due to the materials used and their application.
"The latest Fire Risk Assessment visit was carried out on 4 of the blocks on 16 July 2018 by external fire consultants and we are currently awaiting their inspection report. Fire Risk Assessments of the remaining 2 blocks are scheduled to take place on 23 July 2018.
"We work closely with the Scottish Fire and Rescue Service, regularly reviewing fire safety and prevention arrangements to ensure that we protect and safeguard our tenants.
"We have introduced a range of fire safety and prevention measures in the 6 blocks as part of our capital improvement programme.
"These improvements include secure door entry systems, hard-wired smoke detectors in each Council flat, safety lights, fire retardant paint in communal stairs, and fire doors on individual Council flats and storage areas.
"Operational arrangements such as regular inspections of common closes and stairwells and monthly audits of fire safety arrangements ensure the risk of fire and the ability of fire to take hold are minimised and are instrumental to preventative approach."
Scottish Government
A Scottish Government spokesperson said: "Scottish building standards are devolved and our building regulations state that cladding on high rise domestic buildings built since 2005, and cladding added to existing high rise domestic buildings since 2005, should be made of non-combustible materials or a cladding system that has met stringent fire tests.
"The equipment and procedures used in the screening tests were developed by BRE on behalf of UK Government for the sole purpose of identifying the type of ACM cladding. These screening tests should not be confused with a formal classification test against this standard.
"External cladding on high rise domestic buildings built before 2005 has to meet a Class 0 classification which was the most demanding anti-flame spread classification at that time.
"All local authorities in Scotland keep records of their buildings and the type of material used to build them which has enabled them to determine which cladding has been used. Physical inspections are carried out where any issues are identified or further reassurance is sought."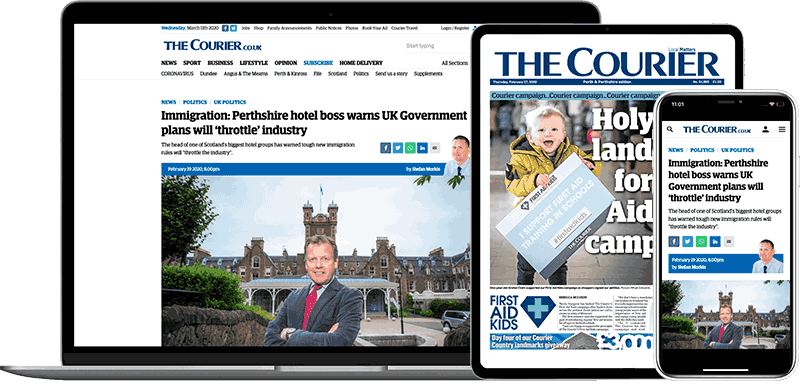 Help support quality local journalism … become a digital subscriber to The Courier
For as little as £5.99 a month you can access all of our content, including Premium articles.
Subscribe