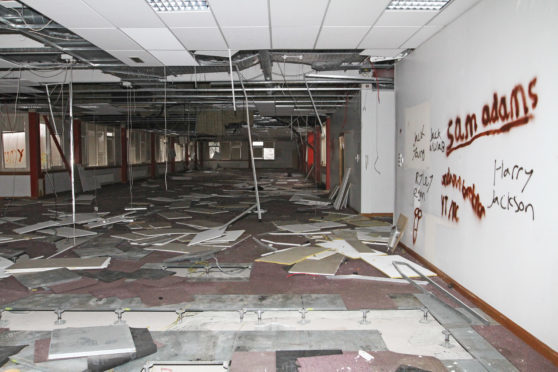 A prominent eyesore on one of the main routes into Dundee is in line for a long-awaited face lift following legal action by the city council.
The disused Technology Park office block has become a magnet for vandals and its broken windows and graffiti-covered roller doors are one of the first sights that greet travellers heading in along the Riverside Avenue Ambassador Route.
Thousands of vehicles use it every day and numbers are set to increase when the £80.1 million V&A Dundee opens next month.
The council has repeatedly urged owners Bawnmeadows Ltd to take action and has now issued an amenity notice.
The instruction means the owners must tidy up the site by a set date.
If they fail to act, the council will carry out the work and bill them.
Some work was reportedly carried out by the company in April this year in the hope it would help it to find new tenants, however, the interest never materialised.
West End councillor Fraser Macpherson, who has long campaigned to have the building fixed up, said the site was still a "total mess" and a "terrible advertisement" for the city.
He said: "I have been really concerned about the total mess of this building and the deterioration of it.
"There is no excuse for the site remaining in such a mess.
"The building is on an Ambassador Route and the deterioration is very prominent and a terrible advertisement when visitors enter the city, so removing the eyesore as soon as possible is vital."
Mr Macpherson said he first took the issue up with council planning officers in November 2017 but that the issue had "dragged on" ever since.
The owners reportedly gave the council assurances that the issues would be addressed, however, they then claimed negotiations with a possible tenant, as well as difficulty getting electricity transformers on site, had delayed matters.
Mr Macpherson added: "The council is rightly keen to see unused buildings brought back into positive use.
"This one is particularly important in that it is in such a prominent site at the entrance to the city so I am now hoping that the owners respond positively and promptly improve the building.
"Removing the graffiti and repairing broken windows alone would make a huge difference."