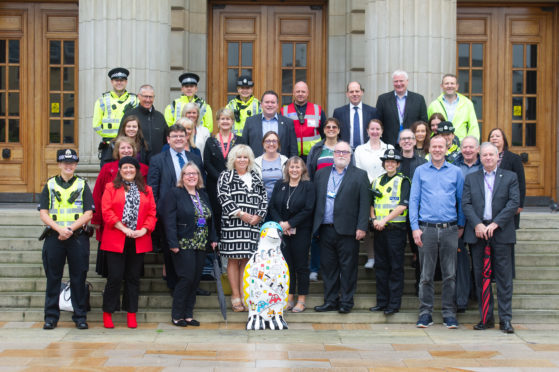 Dundee parents, council workers and police officers walked to primary schools in the city as part of a campaign to encourage sustainable travel during the new school year.
The walkers set off from City Square and made their way to three primaries at the start of the school day on Tuesday to highlight the new Go Safe Dundee initiative.
Pupils then met the adults at Blackness, Dens Road and Glebelands primaries to hear of their experiences.
Go Safe Dundee is intended to encourage pupils to take healthy and sustainable transport options – whether walking, cycling, by bus or by 'park and stride'.
The campaign is also aimed at parents and drivers by appealing for them to park considerately near schools, not to idle with their their engines running and to drive safely in the streets nearby.
Depute convener of children and families service Councillor Roisin Smith, said:  "Go Safe is a new focus on the issues about travel and roads around schools.
"It builds on the previous work we have carried out.
"Over the past few years we have been campaigning relentlessly for drivers to act sensibly around schools and not cause danger to children.
"There are also other alternatives, such as parking further away from school and encouraging children to walk the rest of the way, if you have to bring your car."
The local authority is working with a range of partners, including Police Scotland, to constantly monitor the situation around all schools.
Diane Martin, a parent who assists with Dundee's road safety working group, said: "The reason we are doing the walk to schools is to raise awareness for our children's safety, not only at school but for the city in general.
"We would like to encourage parents or family members to join the children on their daily walk to schools.
"We are in a society where we are always talking about being healthy and how we would like the children to walk, cycle, scooter to school. It can also help with the parking issues we have at schools.
"Taking the extra time to walk to school will make it so much safer, as children are so small and if big cars are parked wrong then they cannot be seen when trying to cross the road."