A Scottish designer's Star Wars costume will go on display at the V&A Dundee.
Trisha Biggar, from Glasgow, spent eight years leading the team responsible for creating the attire worn in the Star Wars prequel.
Ms Biggar was involved in the design of everything from Jedi robes to CGI clothing for characters such as the notorious Jar Jar Binks.
The costume worn by Natalie Portman in 2002's Episode II: Attack of the Clones is to go on display at the museum.
Known as the travel disguise costume, the gown was worn by the character Padmé as she secretly travelled with Anakin Skywalker, who would go on to become the infamous Darth Vadar, to her home planet of Naboo.
Back down on Earth, Ms Biggar took inspiration from a Paisley pattern swatch for the textile design. The distinctive shape of the garment was influenced by Russian folk costumes.
She said: "The V&A is my favourite museum and my first port of call whenever I'm in London. I'm thrilled there will be a V&A in Dundee and am delighted that one of my costumes us going to be on display in it.
"By the time we were constructing the costumes for Star Wars, I had collected a large quantity of vintage fabrics and trims, a lot sourced from Glasgow, to decorate and embellish the elaborate pieces being created.
"Around three quarters of all Padmé dresses have got a touch of Scottish vintage on them somewhere.
"Everything for every planet and culture was being created anew. We used references and drew on a multitude of influences from all over the world, from every culture, country, civilisation and period, mixing them up to shape new fashions. By reinterpreting ideas and drawing on history the audience would – albeit subliminally – recognise and identify with the myriad of Star Wars' styles."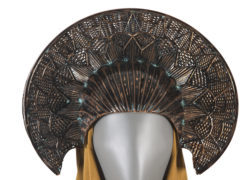 The Star Wars gown is being loaned for six months from the Lucas Museum of Narrative Art, currently under construction in Los Angeles, California.
It will be displayed in the Scottish Design Galleries section of the museum.
Joanna Norman, director of the V&A Research Institute and lead curator of the Scottish Design Galleries, said: "This dress is fascinating, like all of Trisha's Star Wars costumes, because it includes so many different elements and draws on a range of influences to convey the otherworldly qualities of the Star Wars world through its costumes."
Ms Biggar will soon begin working on the next series of Fife-shot Outlander.
V&A Dundee opens on Saturday September 15, the day after Primal Scream take to Slessor Gardens to put on a special show in celebration of the museum's opening.