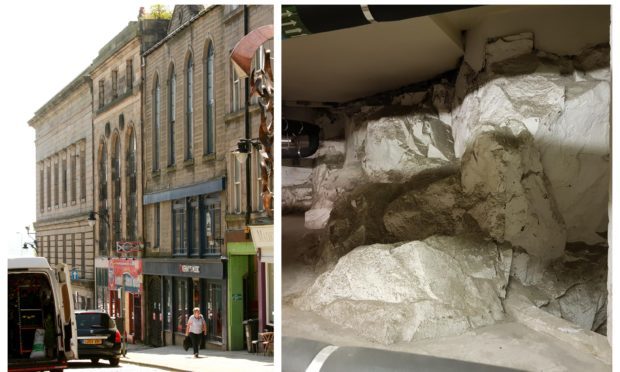 Council staff renovating a shop in Dundee city centre got a blast from the past when they made a surprising discovery.
The crews were working on the former Kennedy's Steak House when they stumbled upon the foundations of the landmark that gave Castle Street its name.
The huge rock formation in the store's basement stretched back up the hill towards High Street and was the base for Dundee Castle.
The find comes just weeks after underground vaults dating back to the 17th Century were opened up to visitors  in the city centre.
Records for the city's first castle are scant, but historians believe it was built late in the 12th Century.
It was surrendered to the English in 1296 and besieged by William Wallace in 1297 before the Battle of Stirling Bridge.
In 1298, Wallace appointed Alexander Scrymgeour the keeper of Dundee Castle.
The landmark was taken again by the English in 1303 and is thought to have been destroyed by Robert the Bruce in 1313.
St Paul's Cathedral was built centuries later on the site where it once stood.
Sadly, history buffs will not be able to see the castle rock for themselves as the final touches to the building, which is being renovated so it can find a new tenant, included the construction of false walls and new flooring in the basement.
Lynne Short, convener for city centre development, said: "In light of the interest in the city's underground with the recent opening up of the vaults and our wider heritage in general, it's amazing to find out that the very rocks the city of Dundee was first built on are still there.
"The building created around it has an interesting enough history in itself as it was the only one left standing in the area during the early 20th Century when there was a massive clearance to make way for the Caird Hall complex.
"Clearly large chunks of the rock remained under this building when it was put up."
The first historical record of a structure being erected on the then vacant plot at 31-33 Castle Street dates back to 1799.
Dundee Town Council took ownership of the site in 1914 as part of the Central Improvement Scheme when many buildings were earmarked for demolition to make way for the Caird Hall.
Contemporary photographs held in the city's archives show the property was not demolished. Instead, the sandstone building was annexed and included in the design and construction of the new Caird Hall complex with a fresh, modern appearance.
In 1994, it was given a category-B listing. Following its facelift and refit, the 79.8 sq m shop will be available for let in a few weeks.